Betting on Tackles: New angle to outsmart bookies and WIN
When browsing bookmakers' market propositions, you may notice many new exciting betting opportunities. One of them is Under/Over Tackles market which can be a fun and exciting way to add an extra angle to profit from. In this article, I will explore some of the key principles, tips and ideas to consider when betting on tackles markets in football, as well as some examples of analysis and finding the best selections for your bets.
How does betting on tackles in football work?
First, it's important to understand the basics of tackles in football. A tackle is a defensive move in which a player tries to dispossess the ball from an opponent. Tackles can be made with the feet or the body, and are typically seen as a key part of a team's defense.
One of the key things to understand about betting on the under/over tackles market in football is that it is based on the total number of tackles that are made during a game (only the regular period of the match – 90 minutes + injury time). There are usually 3 separate markets for tackles betting and these include:
tackles made by both teams
tackles for a single team
individual tackles made by specific players.
Types of Tackles betting markets in football – explained
When it comes to teams, the under/over tackles market allows bettors to wager on whether the total number of tackles made by both teams in a game will be under or over a certain number. For example, if the under/over line for a game is set at 25.5 tackles, bettors can place a bet on whether the total number of tackles made by both teams will be under 25.5 (the under bet) or over 25.5 (the over bet).
Tackles Betting Philosophy
When watching football matches and analyzing the tackles you may start making some observations and correlations for different scenarios. Here are a few of them:
Tactical awareness
Regarding betting on tackles markets, there are a few key factors to consider. One of the most important is the overall defensive style of the team. Some teams are known for their aggressive, tackling-heavy approach, while others may prefer to sit back and rely on a more passive defence. This can have a big impact on the number of tackles made by the team and its players.
Another important factor is the quality of the opposition. Teams that face strong attacking teams may be more likely to make more tackles, as they will need to work harder to defend against the opposition's attacks. On the other hand, teams that face weaker opposition may make fewer tackles, as they may not need to work as hard to keep the opposition at bay.
Home Ground Factor
In addition to team and player factors, it is also important to consider the specific context of the match when making your selections. For example, a team that is playing at home is likely to be more aggressive and rack up more tackles than a team playing away from home.
Match Importance
Similarly, a team that is playing a high-profile match against a rival is likely to be more fired up and tackle more than a team playing a low-stakes match against a weaker opponent.
Proven tacklers
It may be worth looking at teams with a history of good defensive performances when making your selections. Players to watch out for on these teams include defensive stalwarts like N'Golo Kanté of Chelsea, Virgil van Dijk of Liverpool, and Aymeric Laporte of Manchester City.
When looking at individual players, it can be helpful to consider factors such as their position on the field, their team's overall strategy, and their recent performance. For example, a defensive midfielder who plays for a team that is known for its strong defense may be a good bet to go over their tackles total, while a forward on a team that relies on quick counterattacks may be a better bet to go under.
Weather factor in betting on tackles
If you recall playing football in your younger years, you may associate tackles or perhaps even more slide tackles with wet pitches and rainy weather. Tackles made in those conditions are often more spectacular and in a way easier to perform due to the slippery conditions.
Rainy weather and a wet pitch can affect the number of tackles in football in a number of ways. In general, a wet pitch can make it more difficult for players to maintain their footing, which can lead to more challenges and tackles as players attempt to regain control of the ball. Additionally, a wet pitch can make the ball more difficult to control, which can lead to more turnovers and thus more opportunities for tackles.
Frozen pitches will definitely put many players off from doing many sliding tackles as the rock-solid grounds are not as appealing and increase the risk of serious injuries and painful muscular knocks.
Certain weather conditions can actually be a very desired factor to look out for and include in your analysis. It's also worth knowing that certain clubs will also lightly spray their pitches minutes before their matches kick-off and it would be interesting to know whether that can affect the number of tackles in a match.
Betting On Tackles – Statistical models
One way to approach betting on the Under/Over Tackles markets is to focus on teams and players that are known for making a lot of tackles. For example, teams that are known for their physical play and strong defence, such as Liverpool or Atletico Madrid, may be good bets to go over their tackles total. Similarly, individual players who are known for their aggressive tackling, such as N'Golo Kanté or Wilfred Ndidi, may be good bets to go over their tackles total.
To help you make your decision, it can be useful to look at a team's recent tackling statistics. For example, you may want to consider the number of tackles they have made in previous games, as well as the number of tackles they have conceded. You may also want to look at the team's overall defensive strategy and the quality of their opposition to see if they are likely to be involved in more or fewer tackles in the upcoming game.
One statistical approach to betting on tackles is to focus on a player or team's past performance. This can be helpful in identifying trends and patterns that can help predict future tackles totals. For example, a player or team who has consistently gone over their tackles total in recent games may be a good bet to go over again, while a player or team who has consistently gone under their tackles total may be a better bet to go under.
Here at Bet The Builder, we calculate Tackles statistics from the last 10 matches (all competitions and single competitions), as well as tackles H2H stats for all 3 markets.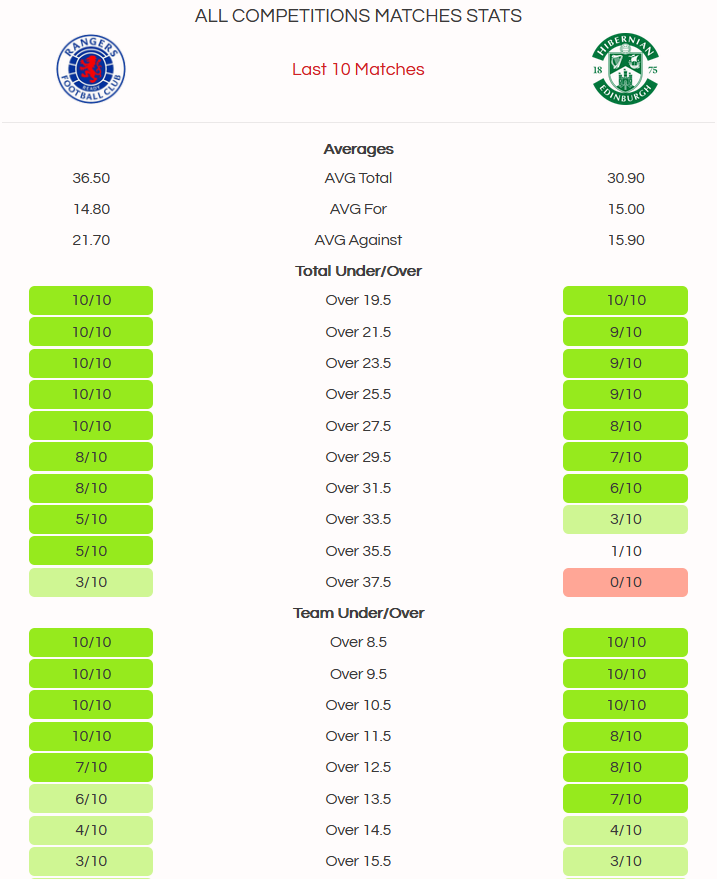 We can browse Tackles Statistics match by match and will instantly see tackles averages for both teams (total, for and against), both teams' total under/over tackles stats and a single team's tackles records.
Next, we can look at Head To Head statistics records:
The H2H tackles statistics can often support the recent form statistics or oppose them by presenting unique micro trends which are valid for specific teams encounters. For example, the current match generated a significantly lower number of tackles in the past when compared to the recent stats of both teams. This may point out a specific nature of this fixture and could be included in your analysis.
Similarly, if you check H2H tackles stats for Rangers vs Celtic, you will see a totally different picture and profile of the match (i.e. very intensive, aggressive derby match).
Players Tackles Statistics
Similarly to teams' tackles, we also provide the very same tackles stats for players' tackles. There is a combined list of the top 12 performing footballers in terms of the number of tackles (sorted by the highest tackles average from the last 10 matches of the players).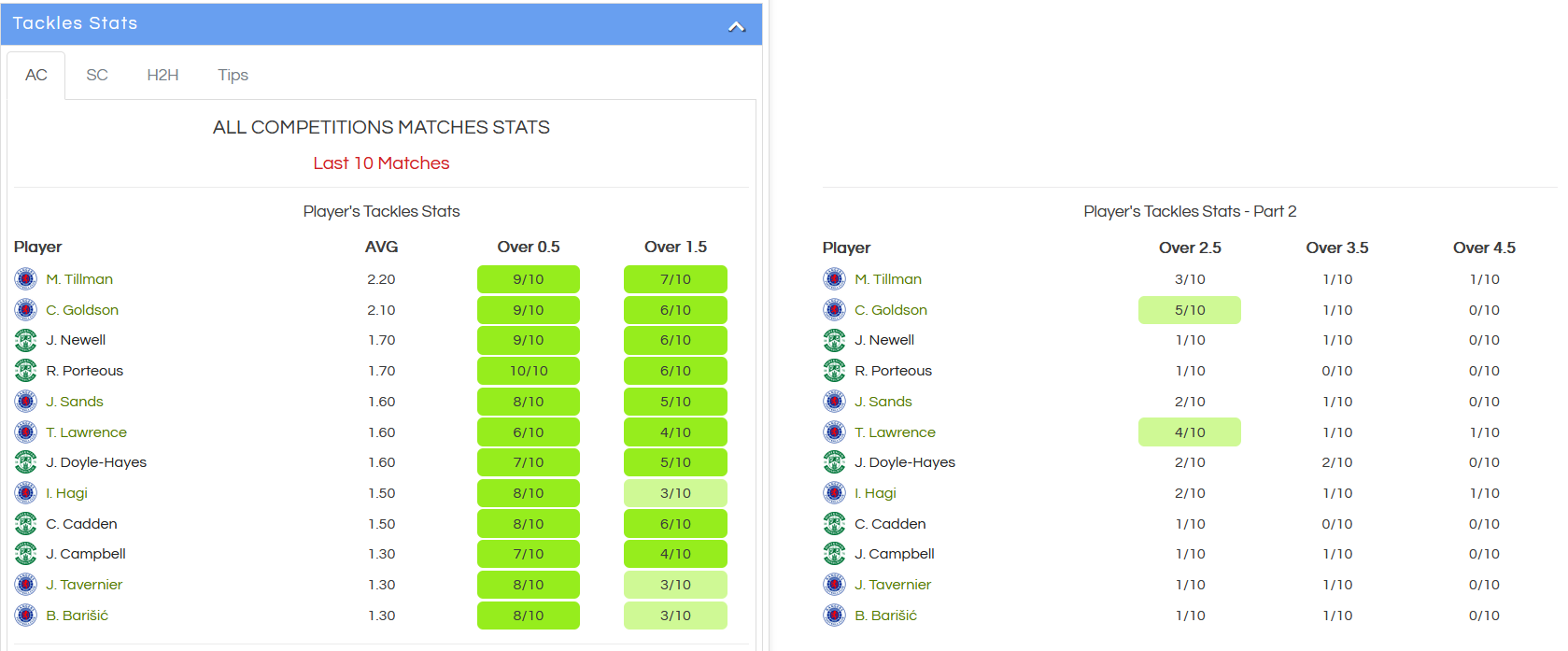 Betting on players under/over tackles markets is a little bit similar to bookings betting (unsurprisingly though as tackles cause fouls and bookings). Hence we emphasize the use of the H2H tackles and trends for the purpose of the tackles analysis.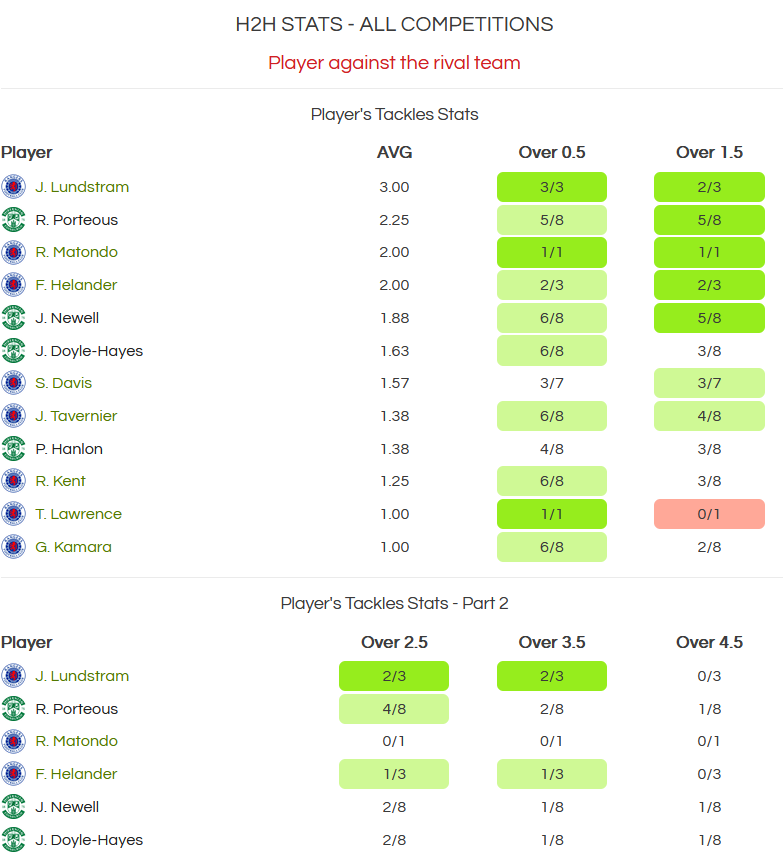 These H2H players' bookings stats and trends are calculated for every player and for their all performances (max last 8) against a given team. That factor helps to discover many interesting personal encounters between certain players. In other words, players who lead long-lasting battles against other players. This results in many surplus tackles and bookings.
Looking for value in player's tackles betting
Rangers' Malik Tillman is an obvious selection for tackles for this match. He is the bookies' favourite for the most number of tackles for Rangers, as well as he tops the stats for most tackles.
You may notice that most bookies offer only overs tackles lines and provide very poor value odds. For example, they offer Even money odds for M. Tillman to get over 2.5 tackles, but we know from our stats that he averages 2.2 tackles per match (from his last 10 matches in all competitions). Furthermore, he reached 3+ tackles only on 3 occasions in his last 10 appearances.
If you base your bet decision based purely on these statistics, the odds of 1/1 are not representing any value and I would recommend you look lower down the list for potentially better selections.
In many cases, you may struggle to find good value bets propositions. Bookies often offer poor value prices on individual players' tackles. You may be better off looking at Asian handicap lines for tackles for single and both teams' tackles.
PRO TIP: Look out for players who will be playing out of their usual positions. E.g. defenders playing in midfield due to injuries or tactical changes. They will often have better chance to rack up more tackles and you may find very good value prices by doing your home work.
Summary
Overall, betting on under/over tackles markets in football can be a fun and exciting way to engage with the game. By analyzing the teams and players involved and considering factors such as their defensive records and style of play, you can increase your chances of making successful bets.
To find the best selections for tackles betting, it's important to do your research and analysis. This can involve looking at a range of statistics and other data, such as a team's recent form and their head-to-head record against their upcoming opponent. You can also consider factors such as injuries and suspensions, which can affect a team's ability to make tackles. Remember to check our tackles stats and trends out as they will save you tons of time.
PRO Tips