First Half Goals – The only guide you need for the FHG betting & Trading
Betting & trading on the first half goals markets has really boomed over the last few years. More and more punters pointing their attention to bet on goals in the first half, and maybe this market could be the one to suit your betting or trading style. There are multiple ways of betting & trading on first half goals markets. I will try to present a few of the most popular ones and show you a few different angles and many great tools to save you masses of time whilst doing every day research and analysis.
First Half Goals Markets
When it comes to goals markets in the first half, there are a few choices offered by most of the bookies. The ones that you use will depend on your FHG strategy and betting/trading style. Here are the ones that are used the most: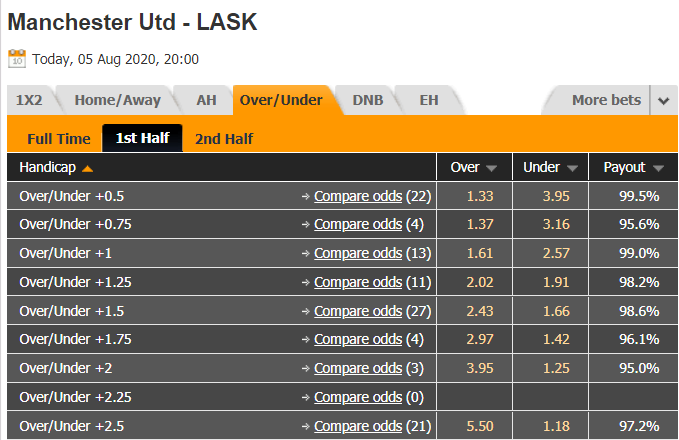 Over/Under 0.5 First Half Goals
This market is the most popular one with punters and traders alike. The 0.5 first half goals line means that when betting overs, you need only 1 goal to be scored in the first half to win your bet. It's relatively easy to pick matches with at least one goal at HT and that's part of the attraction of this market. On the other hand, with the high probabilities of games finishing in over 0.5 FHG, there are pretty poor odds available before the events begin. They will differ from competition to competition though. Some very high goal-scoring leagues will see odds for over 0.5 FHG around 1.15-1.2, whilst other goal shy leagues will see the same outcomes offered at odds of 1.3-1.5.
If you look closely at the example below, you will see that the price differences can be very significant for the very same match across all bookmakers. E.g. highest offered odds are 1.33, whilst the lowest odds are 1.22! Assume you place £100 bet @ 1.22 and when it wins it returns £22 profit. The same bet will return you £33 profit (£11 more!) at a different bookie. It makes a massive difference to your long term/profit figures.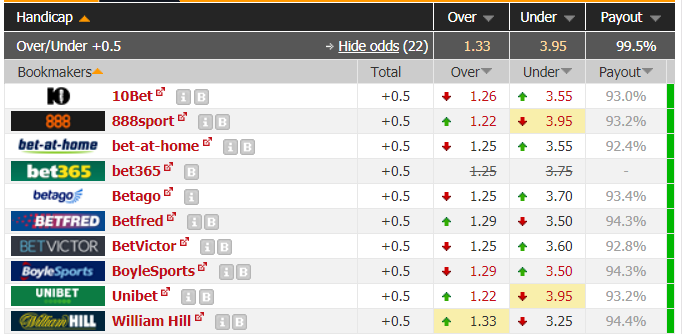 Put the bookmakers sentiments to the side when betting. Make sure that you are getting the best possible odds most of the time. Build your strategy with that in mind. It's the very first principle of treating your betting & trading investements more seriously.
Just a few words about the bookies' overrounds on this market. They usually set their profit margins at around 6-8%, however, these often will get smaller during in-play whilst the bigger Asian bookies offer their AH 0.5 lines after 20 minutes or so when still 0-0.
The o/u 0.5 first half goals markets are often used by casual punters in their fun multiple matches accumulators. They are also very popular with more advanced traders for their in-play bets & trades. We will cover some ideas later on in this article.
Over/Under 1 AH First Half Goals
The first half goals Asian handicap lines are used mostly by more experienced punters. They are mostly offered by bigger/serious bookmakers (such as many Asian bookmakers, accepting winning players and offering higher limits with small overrounds between 2-5%).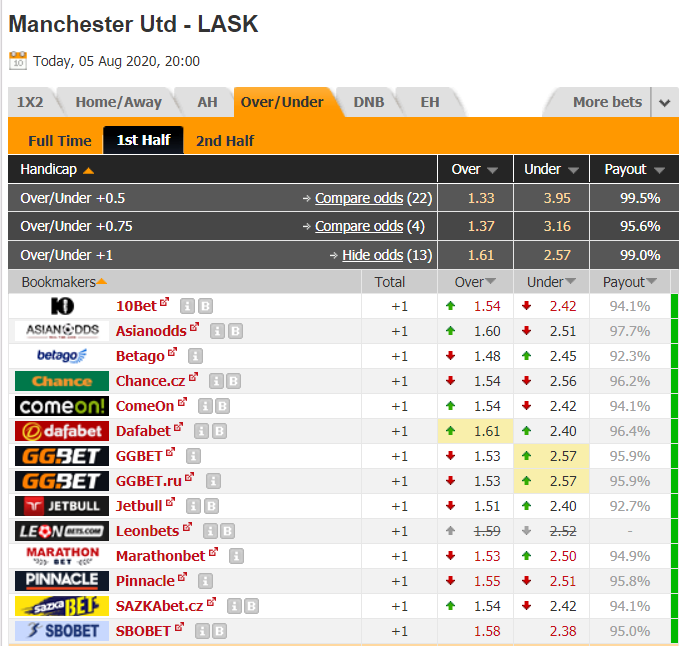 The Over 1 AH FHG line means that when there is exactly 1 goal at the half-time, your bet will be void and you will receive your stake back. More or fewer goals than 1 will win your over/under bets respectively.
Over/Under 1.5 1st Half Goals
The 1.5 FHG lines are slightly tricker to predict. The over bets need 2 or more goals to be scored before the HT and are usually offered at odds way above 2. On the other hand, the under 1.5 goals selections will win with 0 or 1 goals at HT but are available at lower odds.
When it comes to the bookmakers offering these markets it as a mixed bag of soft bookies (with high margin profits) and big Asian bookies (with lower overrounds and decent limits). It's certainly a market with plenty of possibilities to build a solid system or strategy on. It is also popular with traders for over 1.5 FHG methods, as these odds tend to rise very rapidly once the match starts and there are no goals.
Other Asian Handicap FHG lines
Most of the proper bookmakers will aim to offer you an even money line for the first half goals. These can be anything in between the lines that we covered above and will often offer the quarter lines such as 1.25, 0.75, 1.75 etc. You won't see casual and mug punters ever considering these markets.

In this case, we have 1.25 first half Asian handicap goals line. That means that half of your bet will be placed on over 1 AH goals and the other half will be placed on 1.5 line. Depending on the under/over result, you can: win, lose or void your stakes.
Again, these quarter AH markets offer low bookies' profit margins and decent limits, hence are popular with professional bettors and traders.
First Half Goals Systems & Strategies
Here are a few ideas used by punters and traders on the FHG markets:
Over 0.5 FHG accumulators
Accas and coupons rely on combining a few strong over 0.5 FHG pre-match selections into bigger odds bets. These are used mostly as fun bets by casual and mug punters placing their weekend coupons whilst watching some football.
Over 0.5 FHG in-play systems
The purpose of these methods is to find well-fancied selections that are lucky to still be goalless after a certain time interval.
Back Over 0.5 FHG when 0-0 after 20-25 minutes
One of the most popular in-play bets is to wait until the 0.5 FHG odds reach odds of around 2.00 and place a bet then. It's the double your money or nothing scenario. It works well with many different analysis systems and only needs one goal to win the bet.
Back Over 0.5 FHG when 0-0 after 35 minutes
Similar to the above strategy, but the available odds are usually well above 3.00. There is only 10 minutes + any added time left though, but it's perfect timing for those late first half goals.
Trading Over 1.5 FHG ideas
These methods use the same logic to the ones above. You let the game start and the over 1.5 first half goals odds to drift a little to around 3 or 4. A goal soon after you enter your trade will cause a very steep drop in the price and opportunity to hedge (cash out your trade). On the other hand, if there are no goals in the next several minutes you may wish to cut your losses (take a smaller loss) and move on. There are many trading scenarios and possibilities to execute this kind of trading.
Scalping Under 0.5 FHG
For this strategy, you will need to back Under 0.5 FHG at the start of the match or choose another right moment (when watching a dull game of football). As the game progresses and there are no signs of goals, the under 0.5 first half goals will start steaming quite quickly. So if you are anticipating a match to have a slow start, with both teams showing each other plenty of respect and not having many goalscoring opportunities, you may be able to get in for 5, 10 or 15 minutes and get out with a profit. Back under 0.5 FHG and lay it a few minutes later (cash out for an equal profit on both outcomes). Just remember that a goal in the time when you back 0.5 FHG will mean that you lose your whole stake. Therefore your staking and entry/exit points must be spot on and you must accommodate for those circumstances.
Betting on AH FHG lines
This method is used by professionals and relies on getting on the early lines and odds. They require a lot of experience in modelling and predicting accurate first half goals lines and finding value bet opportunities. For example, if you can bet on over 1.25 FHG at even money and see the line moving to 1.5 or 1.75 FHG before the match starts, you will beat the closing line and have gained an edge. In such circumstances, it's possible to hedge your bets for a profit before the match starts.
On the other hand, you can be betting against the market and finding your profit pockets in those narrow Asian handicap lines. It takes a lot of experience to be able to do so effectively.
First Half Goals Analysis
No matter what FHG systems, methods or strategies you use, your results will depend on your preparation. By saying so I mean your first half goals research and analysis. There are many great tools and resources that will save you plenty of time and make the whole process easier. In the sections below, you will find a few of the most popular ways of finding the best first half goals tips, predictions and selections.
First Half Goals Stats
Past matches statistics in football are one of the most popular ways of analyzing matches and predict future outcomes in football betting and trading. They are often the starting point to find the best tips for many tipsters and punters alike.
There are 4 main types of stats that are used for analysis:
Short term stats – looking at both teams last 5/6 matches
Medium-term stats – analysing 10-15 most recent games
Long term stats – based on at least 20 last matches (also look at accumulated season-long performances)
Head To Head stats (H2H) – taking into consideration only matches between the two given teams
One may decide to look at all past matches, analyze home matches of the local team and away games of the visitor team. There are various stats portals and services offering football and soccer statistics. Make sure that you know what matches are included in the calculated % stats e.g. whether they are based on league matches only or cover all past matches (cups/friendlies etc.). It's important to use the most relevant football statistics and with as little errors as possible.
All Competitions & Single Competitions Stats
At BetTheBuilder.com we include both AC and SC stats. All competitions statistics are calculated from all past matches including league and cup competitions. They don't include friendly matches. The Single competitions stats are based on single competitions only.
There is a range of stats and averages calculated for various first half goals markets. The Total Under/Over lines are based on combined FHG (home or away team scoring), whilst the Team Under/Over lines are relevant to the named teams only (e.g. Home many times the home team scored over 0.5 FHG goals etc.).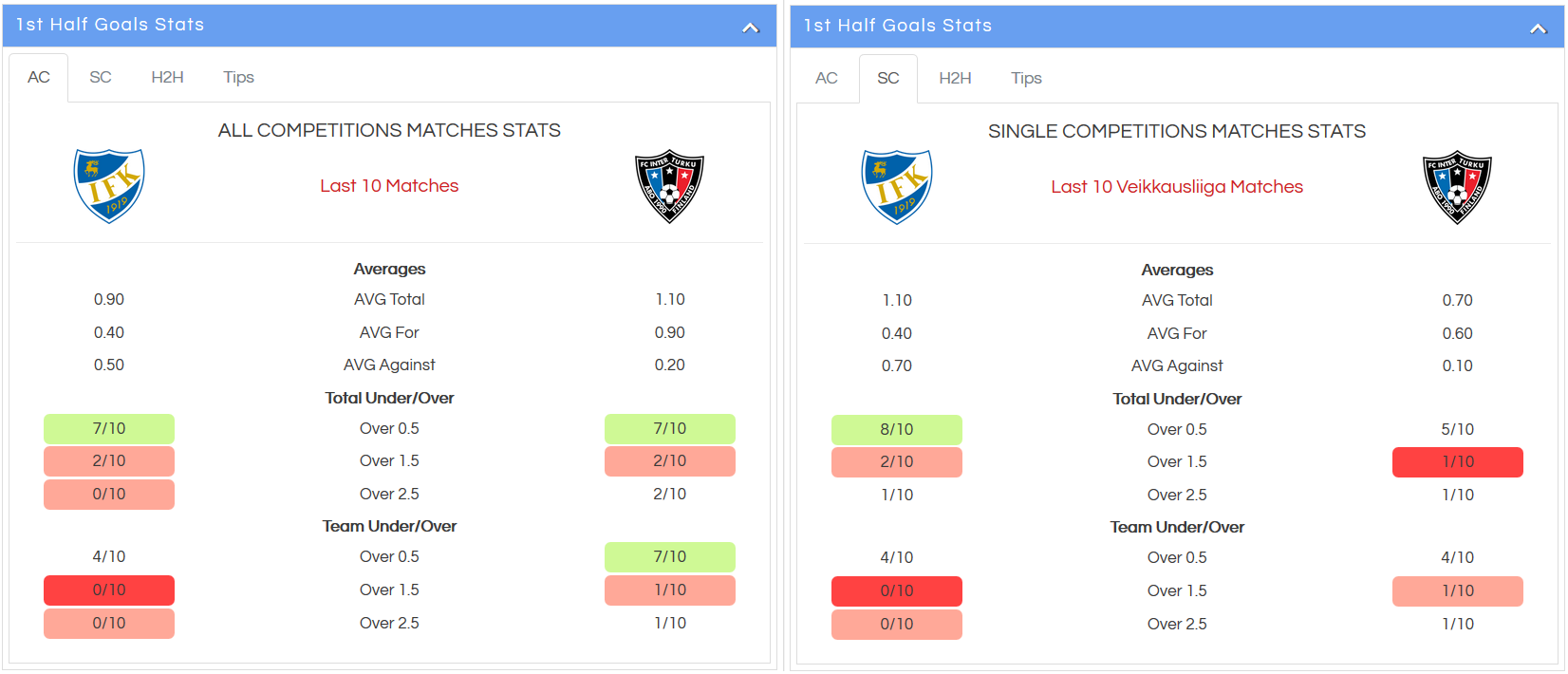 The colour formatting (green and red shades) will quickly identify outstanding statistics (good and poor respectively).
Please note the difference in the AC and SC stats. E.g. for the AC stats, both teams have a combined 14/20 over 0.5 goals matches, whilst the SC stats show 13/20 with the away team having 2 less in the Veikkausliiga than they had in all competitions.
Statistics tell you what happened in the past and they have no influence on the future outcome. The outcome that happened 20 times in the last 20 matches (100% success rate) doesn't mean that it will definitely happen next time out. The stats can be very usefull in finding good selections and are the first step to determine whether a bet outcome represents any real value.
Head To Head (H2H) Stats
These Head to head first half goals stats are calculated from the last 8 matches in all competitions for any given 2 teams. The handy averages stats will help you to determine who was on top in those encounters.
Sortable Stats
If you wish to view all first half goals stats in one place and have them sorted by the highest % stats, we recommend you go to GoalsCornersCards and check out their FHG lists. The stats provided on that page/app are sorted by the AVG of 6 medium and short term statistics. They also include H2H stats and handy filters.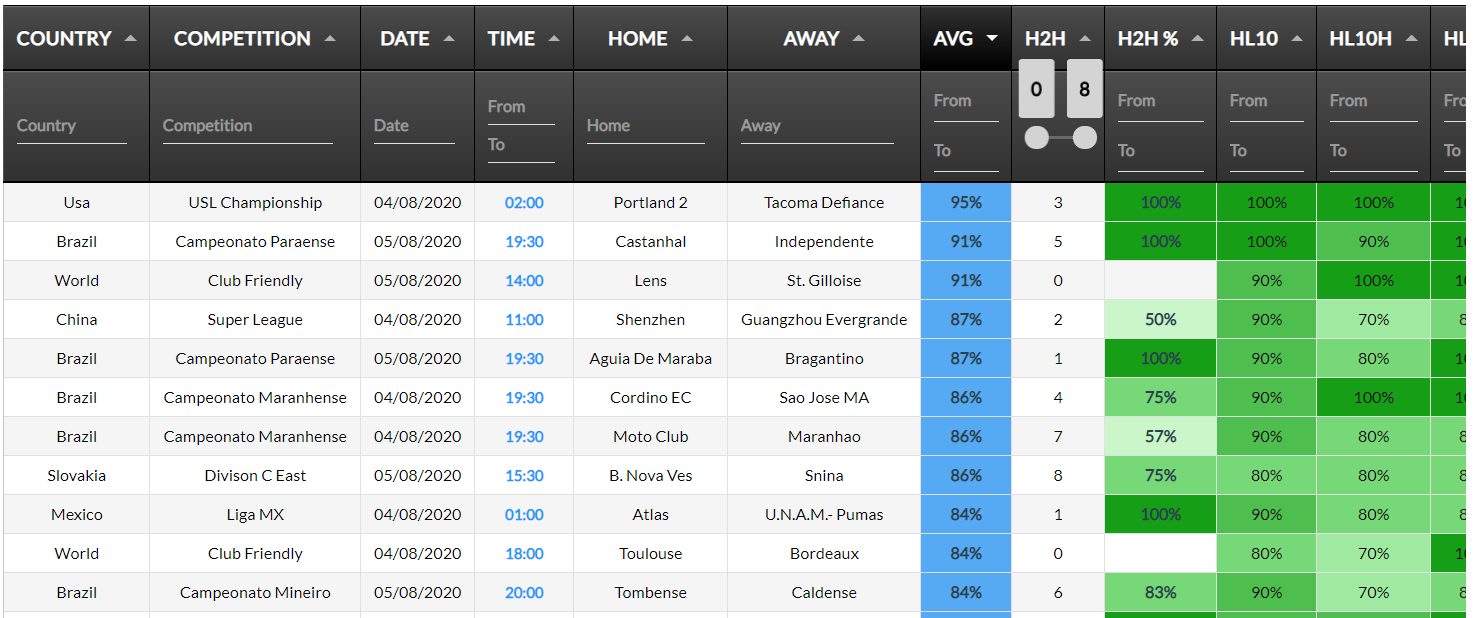 First Half Goals Trends
The first half goals – money trends take the FHG stats to another level. They calculate how profitable or not were the teams whilst betting on the first half goals in their last 20 matches. In fact, we also provide stats for their performance at home for home teams and away for the away teams (last 20 for each of them).
The tables with the FHG trends are sorted by the highest profit/loss figures for the home teams. There are colour filters for both home teams (shades of green) and away teams (shades of red) to highlight the outstanding profitable figures. These will help you identify the strongest money trends teams in a matter of seconds. Furthermore, you can click on the APL header (Away Profit/Loss) in order to sort the data by that column.
In many cases, the money trends will reflect the ordinary stats i.e. by highlighting good performing teams with very low HTO (Home True Odds) and ATO (Away True Odds). We can quickly compare them with their past average odds (HAO and AAO) and current Odds (O).
Let's look at the following example from our First Half Goals Money Trends feature:
Home/Away Last 20 matches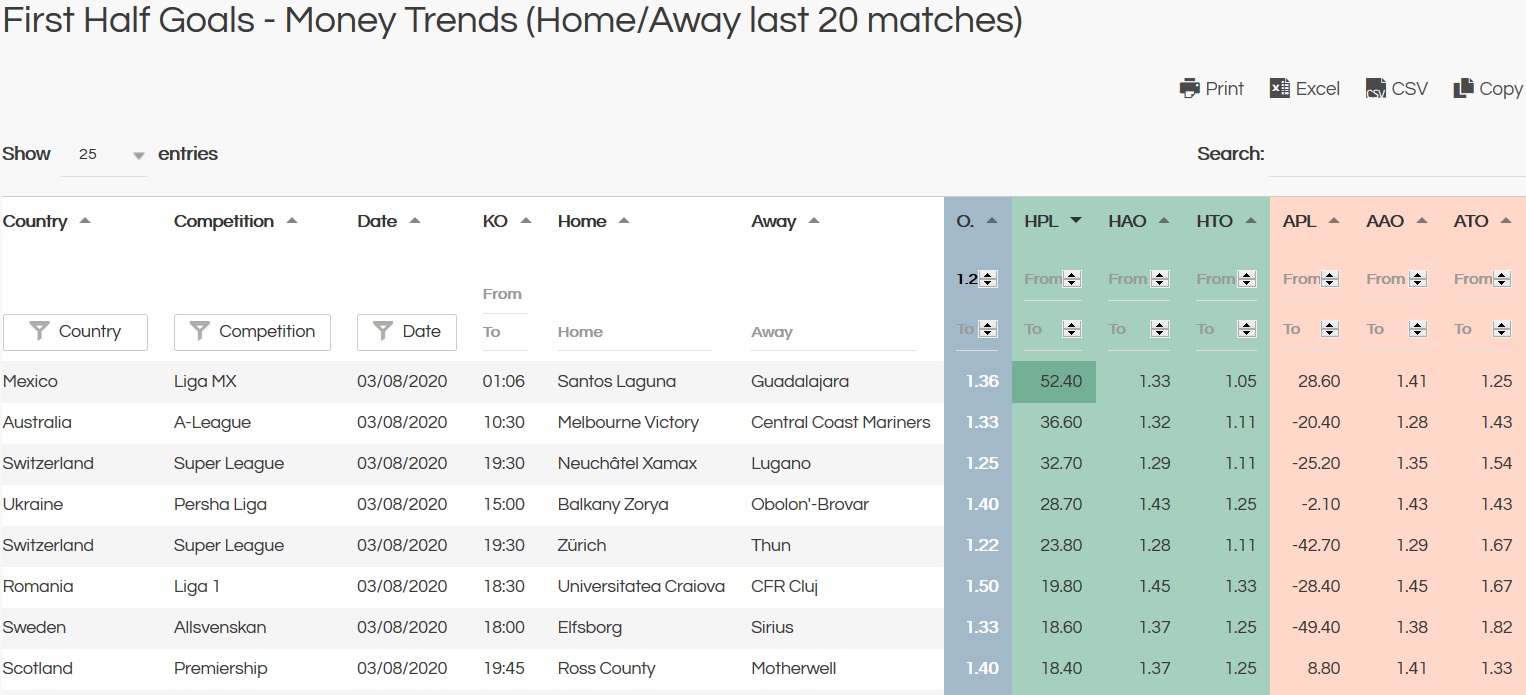 If you were betting 10 points on each of the Santos Laguna's last 20 matches to have a first-half goal scored, your profit would have been 52.4 units (26.2% ROI). The average FHG odds in those games was around 1.33 (HAO) and their performance (19/20 FHG matches) represents the 1.05 true odds value (HTO).
Santos' opponents – Guadalajara has also generated a profit in their last 20 matches (28.6 units to 10 unit stakes). Considering the available odds of 1.36, it looks like a half-decent selection which can be used for various first half betting and trading strategies.
Last 20: Home at home, Away when away
The next load of FHG money trends is calculated for home teams – home matches and away teams – away matches. The colour formatting is highlighting our pick that we analyzed above – Guadalajara (APL of 46.4 units). This means that Guadalajara has been a profitable selection for FHG whilst playing away and it only backs our previous analysis and adds reasoning for backing the first half goal (over 0.5 first half goals) in their away game against Santos Laguna.
Money Trends – Identifying poor value selections
The FHG money trends can also save you some money by identifying some poor value bets. Let's assume you see a good bet recommended by a popular tipster, who reckons that there will be a goal in the first half in Barcelona's match. It may make sense, as Barcelona score plenty of goals and have all the TOP players and a massive following around the globe. People will bet goals and expect goals. Do you think that they will be profitable in the long term? Do you want a share of this public bet? How can you quickly determine whether this bet recommendation is a good value pick? Does your first half goals strategy take that into consideration?
It may take you a while to gather all the past odds and scores to calculate the profit/loss figures for both Barcelona and their next opponent. An easier way would be to use a ready solution – the FHG money trends.

At the time of writing this article, Barcelona are on their summer break, so I will give you another example of a poor value team pick. Have a look at the Gold Coast United record for their last 20 matches in the FHG market (over 0.5 FHG). Their average odds were around 1.16 in the very goal minded Australian NPL Queensland's league. They managed to achieve that outcome in only 15/20 matches. This gives a better odds estimate of around 1.33.
You can use this little analysis for any match and team. Filter the matches by country, competition, home and away teams as well as odds and profit/loss figures.
First Half Goals Averages
Some punters build their first half goals strategy based on the FHG averages. If you like to find the fixtures with the highest and lowest first half goals averages in seconds, this resource is perfect. You can sort by the average goals at home, away, all and in the Head To Head meetings. It's particularly useful for building FHG systems for Asian lines and Over/Under 1.5 First Half Goals markets.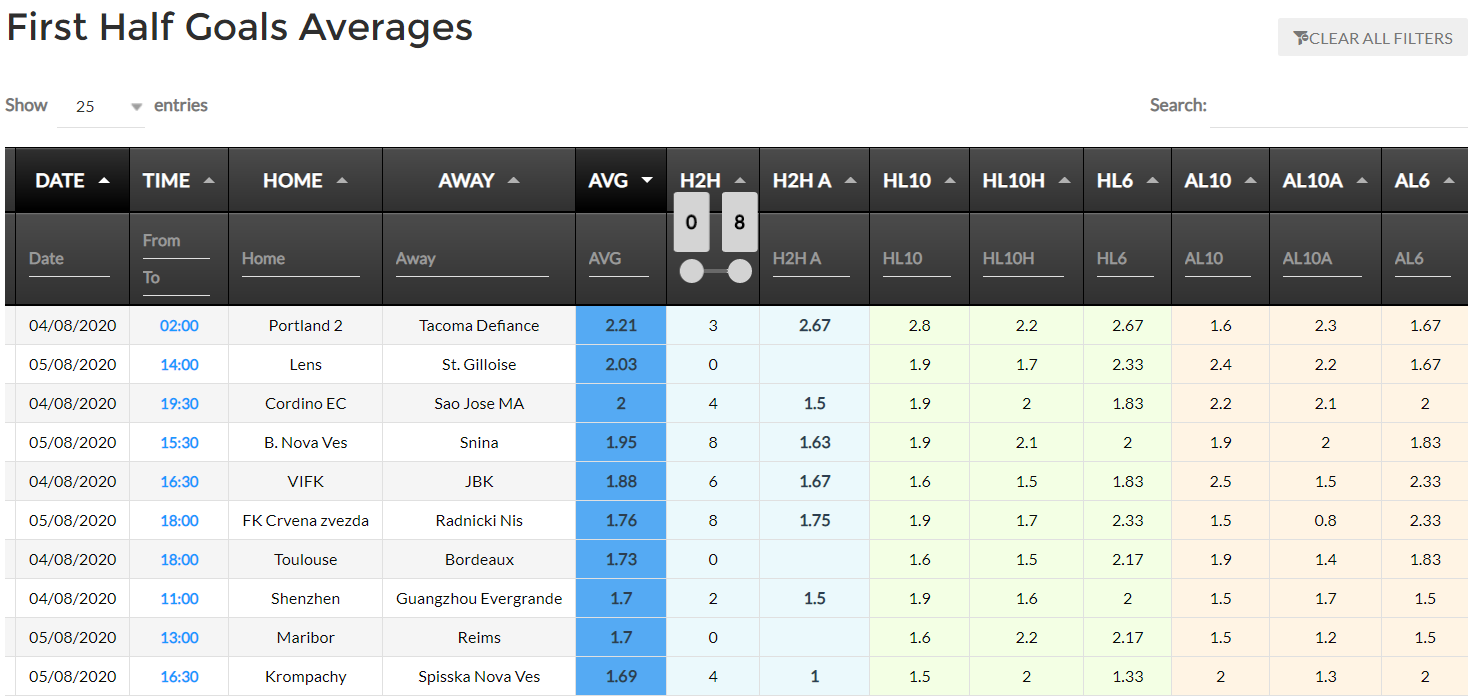 First Half Goals Goals Scoring & Conceding Times
The Goals Times trends are another way punters can build their first half goals systems and strategies around. It takes a good resource to find all the relevant stats for goals scoring and conceding times intervals stats.
Certain teams specialize in strong starts to their matches – i.e. scoring fast goals. Some teams tend to concede a quick goal. There are teams with habits of scoring or conceding a goal just before the half time. Could you quickly identify such teams? If you did, you could build a first half goals strategy around it. For example, backing early goals, dutching goals in 15 minutes intervals, backing higher goals lines for trading and laying under goals markets later in the first half.
The goals scoring & conceding times intervals trends feature displays % distribution of goals scored and conceded in 15 minutes time intervals
Early first half goals
HS_1_15 (Home Scoring in 1-15 min interval) – represents % of goals scored in the 1-15 minutes interval by the home team.
So for example, Coritiba scored 33% of all of their goals in the first 15 minutes of their matches. The numbers are based on their last 16 matches in Paranaense 1 in Brazil this season. Similarly, their opponents have also scored 33% of their goals in that time interval.
HC_1_15 and AC_1_15 stand for goals conceded percentages.
Late first half goals

These trends give a better image of teams goals scoring and conceding distribution in the second half of the season or at least after a few matches. We can filter the fixtures for teams that played a minimum of 10 matches. In order to do so, we type in H# from 10.
Al Fateh is the team with the biggest % of their scored goals in the last 15 minutes of the first half. Similarly, we have some interesting stats for Frei Paulistano in lower Brazilian competition, where they scored and conceded most of their goals in that time interval.
These kinds of statistics can be handy when betting & trading late first half goals when the time for goals is running out and odds are rising very quickly.
First Half Goals – Dropping Odds
This approach is slightly different from the ones described above. Following the money or in other words following the selections with dropping odds is another way of picking selections. The shortening price indicates money coming in and punters backing certain outcomes. Those odds movements may occur at different stages before the start of the match:
Days or weeks in advance (drastic change in form, major injuries or other bad team news)
Overnight odds movements (most of them caused by punters backing their selections for the day ahead, tipsters publishing their picks etc.).
An hour before the kick-off (purely driven by the line ups announcement)
We can recommend a fantastic tool which monitors the overnight odds movements for under/over 0.5 and 1.5 first half goals markets.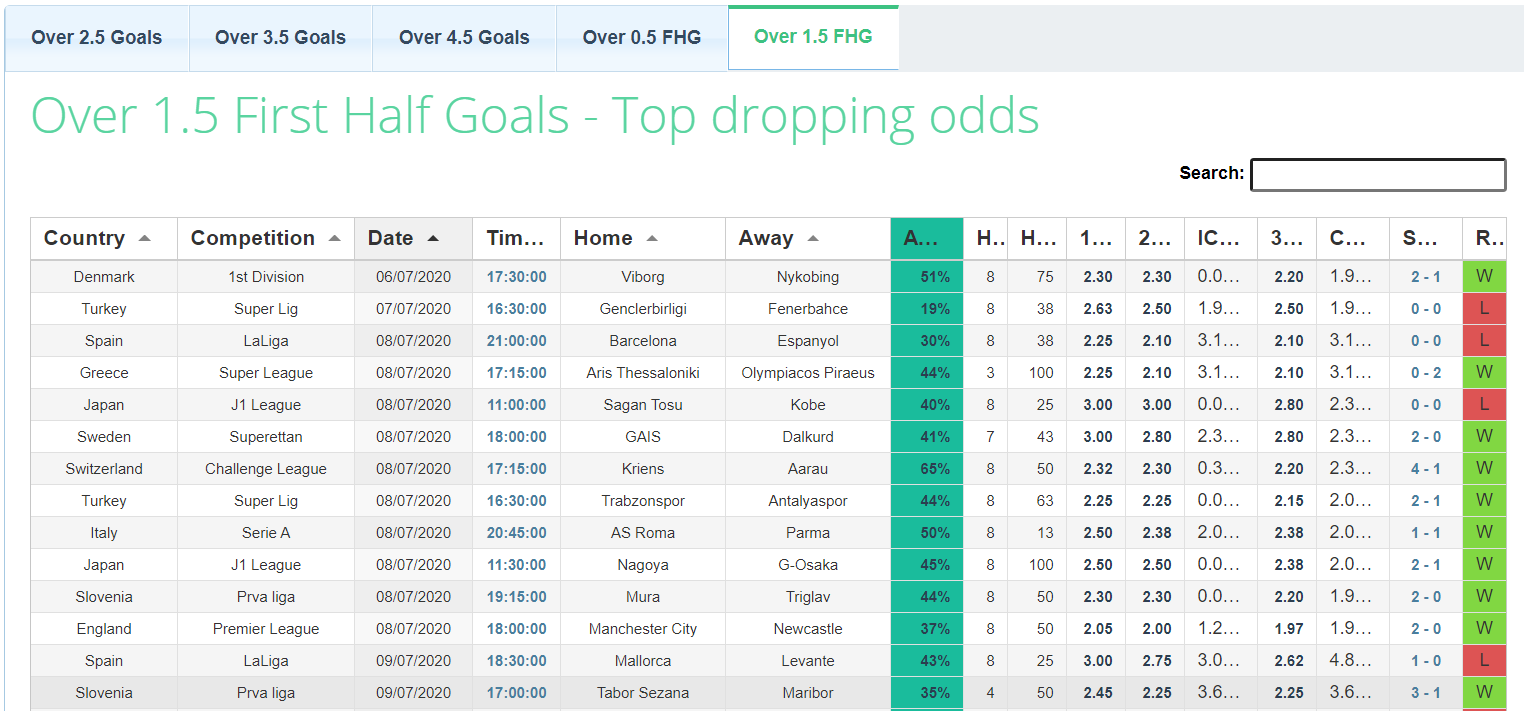 Following the dropping odds tips may sound to many as a daft idea as the odds have already moved and you are about to bet at worse odds. It will, of course, make a difference to your profit/loss figures as you won't be getting the early good odds. But you may find you are getting enough edge if you still manage to beat the bookies' closing odds. In other words, if odds moved overnight and you open your positions in the morning, you may still get better odds and decent value than someone betting closer to the KO at an even shorter price.
There is a lot more to learn about the dropping odds betting and trading and I won't go into too much detail here. However, it must be mentioned to avoid following the public bets and big drops caused by the fans money on the most popular teams such as FC Barcelona (see the 3rd match on the screenshot above).
First Half Goals Tips
You will find plenty of services offering first half goals tips all over the internet. These are our first half goals predictions based on our statistical models and we always encourage you to take them further and add bits of qualitative analysis to make them more profitable.
First Half Goals In-play Systems (Live)
Whether you watch a match live or follow the in-play stats, it often somehow comes easy to make such bold statements:
There is no way this game is going to still be 0-0 at half-time
What is even better – as the game progresses, the odds for goals get bigger and bigger, so it's more tempting to get involved.
In-play stats based FHG systems
One of the most popular in-play betting strategies is based on the 0-0 scoreline and encouraging in-play, the likes of:
shots on target
total shots
corners
attacks
dangerous attacks
So if the game is still 0-0 after 15, 20, 30 minutes but the in-play stats look like the match is very lively, it's often a good opportunity to back a first half goal (over 0.5 goals) at significantly higher odds than the pre-kick-off prices.
Game Intensity Scanner – FHG
If you like following live football matches and trying to find the most intense games (e.g. matches that are still 0-0) for your strategies, you may like our Game Intensity Scanner. It uses our unique live stats algorithms and comes up with the last 10 minutes GI (game intensity) figures for both teams. It refreshes every 30 seconds or so and displays the most lively matches in terms of attacks, shots etc. at the top:
It comes with a few useful tools such as pre-match and current live odds, league tables, recent form and … goals times trends: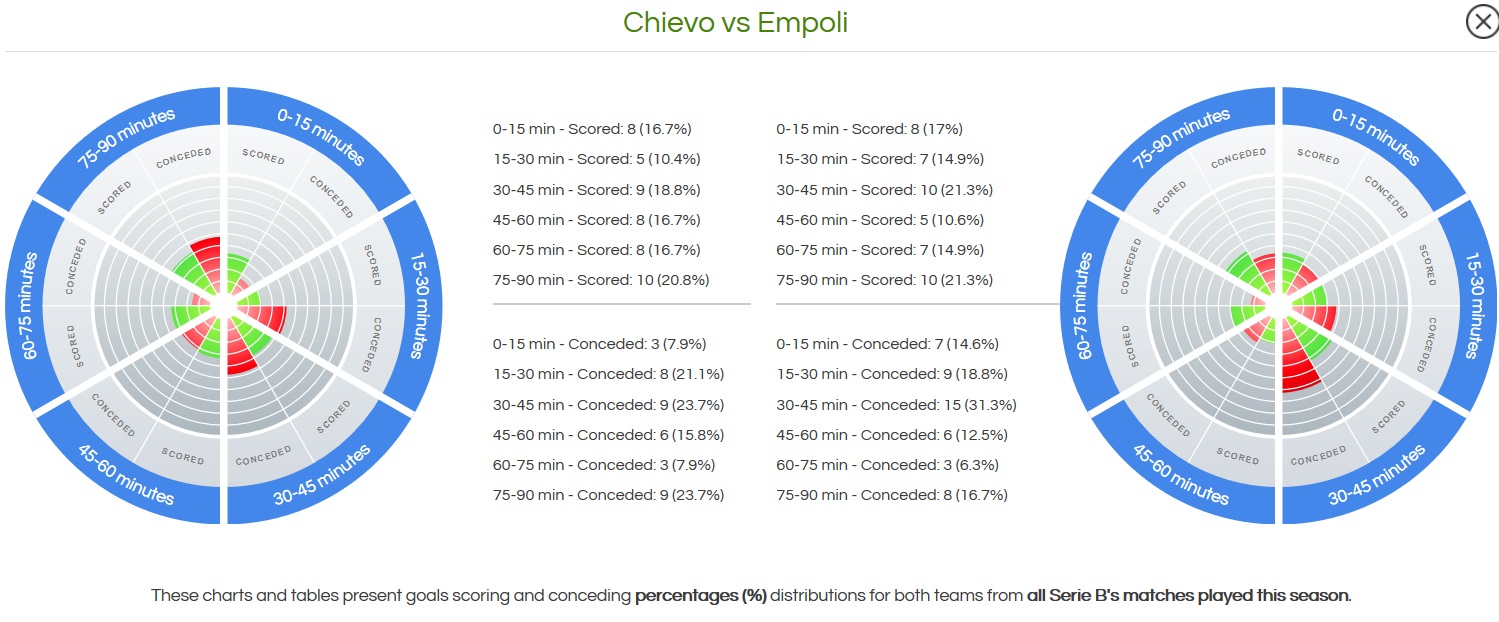 LiveBuilder – FHG alerts
Does it get any better? Yes. If you don't have all the time in the world to sit down and watch the footy, scores and stats in peace, then you can use live notifications systems such as LiveBuilder and get notified whenever your match meets your criteria or there is a strong in-play FHG selection from one of our live over first half goals systems.

The example above shows an alert that was sent to a personal Telegram account after the 26th minute of the SPorting Braga vs Belenenses match when the score was still 0-0. At that time, the odds for over 0.5 first half goals were around 1.93 and the Home GI figure was red 61, which meant that Sporting Braga was all over Belenenses and a goal was very likely to go in soon.
We have a few good first half goals systems in the LiveBuilder for you to follow and will happily set up your custom in-play alerts for your in-play FHG systems and strategies. What's even better is that you can combine the features of the Bet The Builder (stats, tips, trends) with the in-play stats and odds to come up with your live systems.
Final Thoughts
As you can see there are plenty of different approaches to this whole first half goals betting and trading. One can get lost with the wealth of options and resources available for bettors and punters alike. On the other hand, you can choose and try what works best for you and what fits your purpose. I hope that this article taught you something new about the FHG markets and that you take some of those angles and make them beneficial for yourself in your First Half Goals quest.