Betting on corners – under/over corners systems & strategies
Betting on corners markets has become more popular over the last few years as more bookmakers started implementing various under/over corners markets to their offers. It has certainly been helped by the emergence of football bettings stats apps and websites offering complex under/over corners statistics which are providing punters with the best statistical tips and selections for their corners betting systems and strategies in a matter of seconds. Obviously, there is a lot more to it than just stats or trends and I will cover some important angles in this article below. Having made a little fortune from corners betting myself, I would recommend you to explore these niche markets further and benefit from them for as long as you are able to.
Under or Over corners – which one to choose?
Similarly to goals, most people will prefer betting on the over corners markets. When you watch a football match you will subconsciously wish to see plenty of goals, shots, action and corners. Yes, corner kicks are part of the high-intensity game and are loudly cheered by the crowds whenever their team gets rewarded one. Furthermore, you will probably recall many occasions when 2 or 3 consecutive corners had been rewarded in quick succession. It certainly gives out an impression that it's easy to get many corners, as the match is 90 minutes long. Many punters would rather hope for more corners being given late on in the game and their bets win thanks to that.
If you bet on the over corners markets, the late corners (same as late goals) will provide those amazing late winners. Some people just can't bear betting on the under corners and watch some late corners ruining their bets. And to be honest to them, most corners are rewarded in the final minutes of the matches when teams desperately try to change the scoreline by throwing everything to attack/defend.
Those reasons often leave better value bets on under markets in some matches. Furthermore, you can come up with a successful under corners betting system/strategy and remain unaffected (by those late corners) by not following your selections live. At the end of the day, betting under or over markets is a personal preference and you may as well specialize and have good success in both those markets.
Regardless the type of the market you choose, at the end of the day you will still need to consider the odds and try to find good value bets which will generate profits in the long run.
Under corner predictions – low corners scoring matches
How do you find the right matches for the under corners selections?
Under corners betting stats
A simple answer for most punters would be corners stats. You don't need to go through every single match and calculating them yourself anymore. Many sites & apps provide summaries of highest and lowest corners averages and past matches percentages. These corners stats and trends are a great starting point and will provide you with good qualifiers.
Under corners betting research
There is also a more advanced answer to this question. It's knowledge of the teams, tactical awareness and situational circumstances. In other words – qualitative analysis of a football match. Putting some more effort into picking the right matches will result in better quality selections and likely improve the success rate.
There are 3 major aspects that you can choose to look at:
Competitions
Stick to league matches as that's where the stats will give you the most accurate teams' corners profiles. The cup and friendly matches are more difficult to predict due to squad rotations and different priorities of the teams. By excluding those matches you will also limit significant variation in your corner stats data.
Motivation & team's circumstances
It's generally a good idea to avoid matches when one or two of the teams are in a situation that they desperately need to win or not to lose. Those matches can turn out to be quite dramatic with players likely to take more risks by attacking more and generating more corners. Check the leagues' tables for quick reference.
Tactics & Team Characteristics
When you become more experienced in corners betting, you will notice betting on certain teams more often than the others. It's partly due to their style of playing and their tactics. One way of learning about the tactics is by watching plenty of football matches. We are however somewhat limited to a number of live games that we can watch and therefore there numerous resources available to learn about the teams preferred playing styles. Have a look at this great resource from WhoScored.com: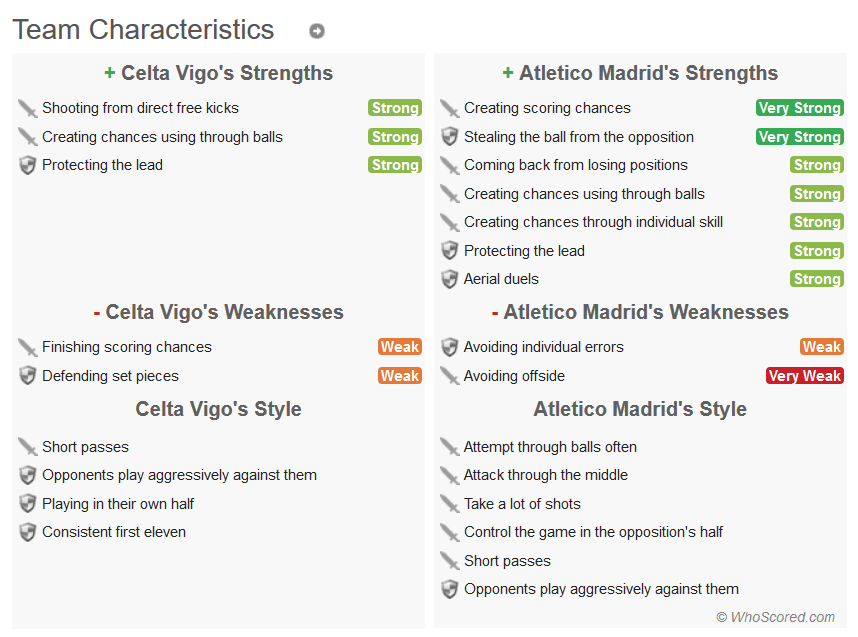 For the under corners strategies you will want to look for the teams with the following strengths:
Defending against attacks down the wings
Playing in their own half
Attack through the middle
Defending against skilful players
Fixtures congestion & Game plan
Take for instance a top 4 team participating in many competitions in the later stage of a football season. They will often play a match every 3-4 days and will often make some rotational changes, as well as try to conserve their energy whilst holding the desired result. For example, a team may score early on in the game and will be happy to sit back and control the game resulting in not scoring many corners. Some football managers will give their players clear instructions to see the game out and hold the score. In other words, they want to win with the least amount of effort and avoiding any injuries of their players.
Remember that your pre-match analysis may sometimes be compromised by the randomness of football and even the best looking under corners predictions will be compromised by an early red card, goal or other game-changing scenarios.

---
Over corner predictions – high corners scoring matches
It may be easier to pick matches finishing with plenty of corners but that doesn't necessary mean that it's easier to make profits from backing overs.
Most of the top teams in the major leagues that you tend to follow live or watch on TV will feature plenty of high-quality players and football play unsurprisingly leading to many shots taken and more corners being awarded. You don't need a mastermind to establish that. It's also already taken into consideration by the bookmakers when setting the lines for under/over corners markets. Those statistically good looking high corners predictions matches will be available to back very high lines e.g. 10.5, 11.5 or even 12.5. And many of those matches will come close to that line by 0.5 corners either way.
Over corners betting stats
Total corners averages, last x matches percentages for home and away teams will often give you a good selection of matches for further analysis. I will cover this topic in more depth lower down in this article and show some detailed examples.
Over corners betting research
Similarly to under corners research, you should consider the following aspects:
Competitions
The leagues' matches should give you the most consistent data and results, so that should be your main focus. Saying so, there are plenty of good high corners scoring matches opportunities in the following:
later stages in knock out style cup competitions (Champions League, Europa League, World Cup, Euro etc., domestic cups etc.)
Seconds legs of the play-offs
fairytale cup tie matches between home non-league teams and top division sides
In those scenarios, losing teams will have no other choice than take all sorts of risks and attack to change the score. The defending team will just be happy not to concede a goal and will kick or head the ball out for corners to avoid any dangerous situations.
Motivation & team's circumstances
Bear in mind the scenarios covered in the under corners research section. Avoid matches with little to play for. It often pays off to get involved in matches when both teams have still plenty to play for e.g. in need of points in title, promotion, relegation scenarios.
Tactics & Team Characteristics
Teams formations and individual players are high up on the list of things looked at when deciding to bet on the over corners markets. You have probably already been advised to look for teams with pacy & skilful wing players attempting plenty of dribbles and crosses. Refer to the WhoScored teams' characteristics and focus on teams with the following strong and very strong characteristics:
Creating scoring chances
Attacking down the wings
Creating chances through individual skill
Attempt crosses often
Play with width
Take a lot of shots
Fixtures congestion & Game plan
For most consistent results stick to teams playing with their regular fixtures with a good few days of rest in between. Those teams tend to field their strongest line ups week in, week out and produce consistent performances. You will find many good value opportunities and selections in those lower leagues.
---
Pre-match vs In-play corners systems
The ever-evolving betting industry offers more and more betting on corners opportunities. Apart from the traditional pre-match corners betting markets, you can now access many in-play corners markets and bet via your tablet or smartphone on the go. The randomness of football will often provide some fantastic corners opportunities in-play.
Pre-match corners markets
There are two main advantages of the traditional, pre-match corners betting:
availability of the good value, early lines and odds
bet & forget – no need to monitor the matches and waiting for additional betting opportunities in-play
Most of the corners betting lines and odds are posted a day or two in advance. That leaves plenty of time for your analysis and placing bets well in advance. As they say… "An early bird catches the worm". From my personal experience, betting pre-match corners lines is more time-efficient and easier to operate in the long run (including managing the losing runs and all other psychological betting aspects).
In-play corners markets
Most of the in-play corners systems are based on backing over corners lines. Punters target matches with no or little corners in the first periods of the match and will back good statistical picks at lower lines. Some other popular methods involve:
Backing over 1st half corners after the 25-30th minute
Backing over corners lines at the Half Time
Backing over corners when a strong favourite has gone behind
Backing over corners in the time intervals e.g. corner in 1-10 minutes
Backing under corners when a strong favourite have scored
We will cover some of them in more detail in the section below.
When betting on the in-play corners markets you will have to be really switched on to monitor the matches to find the best qualifiers. It's a good idea to use preset football in-play betting alerts to receive notifications whenever your selection criteria are met. We have some custom-built in-play corners systems for the LiveBuilder.
---
Betting on corners – under/over corners systems, strategies & resources
In this section, I will guide you through the most popular under/over corners systems for various types of corners markets. There are many good corners stats resources websites and apps, so I'm sure that you will find something that will meet your needs.
When using corners statistics and trends, make sure that you know what types of matches are covered in the data. E.g. are the stats based on league matches only or do they include cups and friendlies matches?
Furthermore, make sure that you certain that the corners stats are not including extra-time corners as those will not be any good for your 90 minute corners markets.
Under/Over Corners Markets
There are 2 main categories of under/over corners markets and it's important to understand the differences and perks of using both of them. We will look at calculating overrounds for each market type to determine the value offered by the bookies on those markets. We do some by calculating probabilities and it's in our interest for the overrounds to be as close to 100% as possible. The bigger the overround the more you get ripped off by the bookies and the more difficult it is to make steady profits in the long run.
Total Corners Lines (2 way) & Alternative Corners
Let's look at AC Milan vs Juventus match and compare different corners markets options across multiple bookmakers.
Corners 2-way
The line, in this case, is 10.5.
To win the Under bet the game needs to finish in 10 or fewer corners. To win the Over bet the match needs to see 11 or more corners taken.

The 2-way corners line are offered by most soft bookmakers and they actually offer very poor value in terms of offered odds (high bookies profit margins). Let's do some quick maths to check the overrounds on this book:
(1/1.8) +(1/1.9) = 55.55% + 52.63% = 108.18%
By offering those odds the bookie's profit margin is 8.18% and let's be honest – the offered book represents poor value.
Alternative Lines

Fancy betting on an exact number of corners? I'm just kidding. But most bookies don't and offer those options too. Let's calculate sample overrounds to give you a better idea of what sort of market this is:
Alternative Corners 6: (1/1.055) +(1/15) +(1/15) = 94.79% + 6.66% + 6.66% = 108.12%
Alternative Corners 9: (1/1.44) +(1/8.5) +(1/3.6) = 69.44% + 11.76% + 27.77% = 108.50%
The 2-way and Alternative corners lines provide poor odds, however the can still be exploited by combining multiple strong selections in accumulators.
These markets can be handy for placing some fun accumulators for over low corners lines and under high corners lines bets.
Total Corners Taken Bands
(1/2.38) +(1/4)  + (1/2.38) = 109.03%
Bookie's profit margin is 9.03%. As much as you like their site/app and the Soccer Saturday banter, do yourself a favour and shop elsewhere for the total corners lines.
Asian Handicap Total Lines
Now we are talking. If you are serious about making money from betting on corners, these markets will be your usual battlefields. Let's look at the following book from the same match as above:

(1/2) +(1/1.8) = 50% + 55.55% = 105.55%
Usually, the best overrounds on the Asian Total corner lines will be around 104% and 105%. Those figures are fine and leave a lot of room to generate profits in the long run.
The Asian corners lines and odds will fluctuate before a match starts. If you manage to pick many matches when the lines and odds move in your favour, you will gain an edge.
How to bet on Under/Over Total corners lines?
I'm going to show you how to calculate the sample value odds based on the statistical strength of the selection.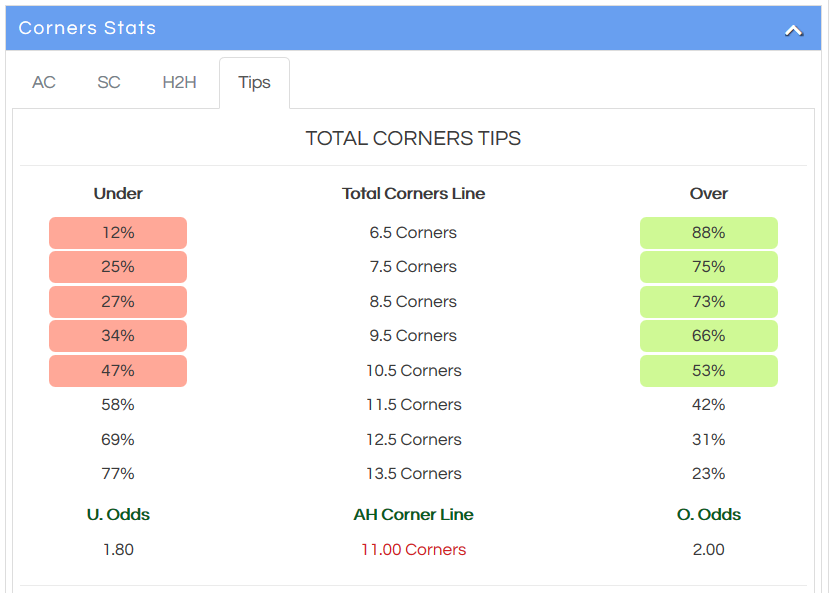 Let's try to calculate sample value odds for the under/over 10.5 corners.
Under 10.5 corners: 1/47% = 2.12
Over 10.5 corners: 1/53% = 1.88
In this case, the best available odds for Under 10.5 corners are 1.90. Our calculated sample value odds are 2.12 and I would be looking to get similar odds in case of willing to back the under 10.5 corners outcome.
Similarly, the best available odds for Over 10.5 corners are 1.80. Our calculated sample value odds are 1.88 which are higher than the available odds. Therefore, betting over 10.5 AH corners doesn't look very appealing unless there are some other factors considered which make it an attractive betting option.
Please note that calculating the sample value odds based on our tips predictions will only cover the statistical side of the match. It's recommended to research those selections further with the qualitative approach to achieve better results.
Seems too time-consuming?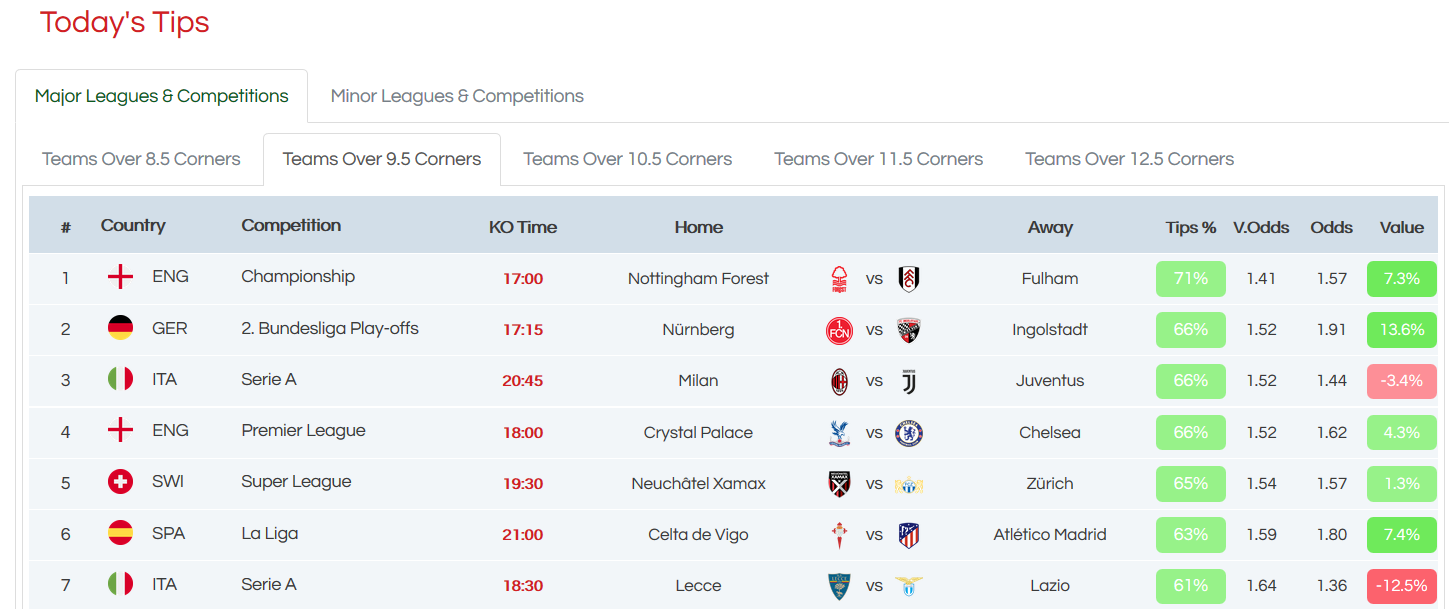 Handy resources:  Professional Asian Handicap Corners Systems – follow our best Under and Over AH Corners systems.
---
Single Team Corners Taken
Other popular corners betting markets involve betting on single team corners lines.
(1/1.83) +(1/1.83) = 55.55% + 52.63% = 109.28%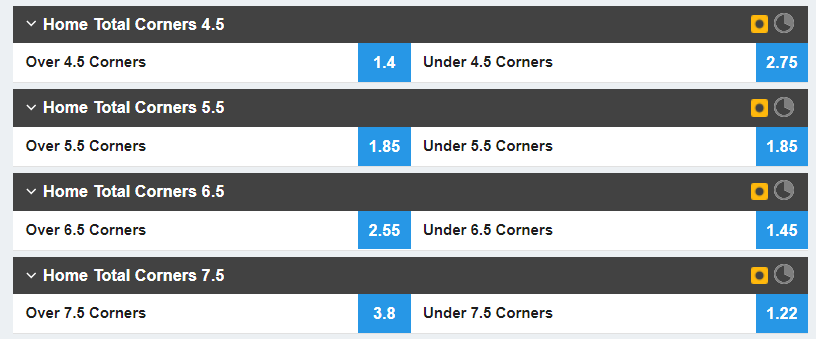 How to bet on Team Under/Over Corners taken markets?
These lines can be quickly compared with our stats and tips selections to determine value bets opportunities.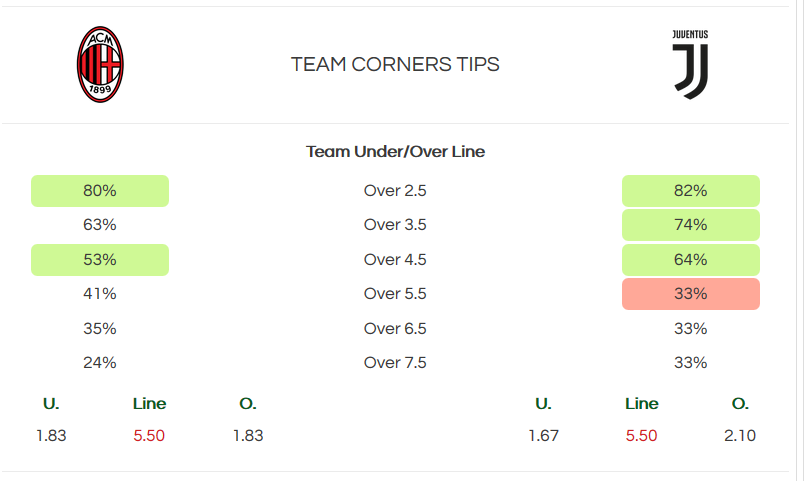 Doing simple calculations e.g. AC Milan Over 5.5 Corners to get sample value odds:
1/41% = 2.44
As you can spot the best available odds for AC Milan scoring Over 5.5 corners are 1.85 with Betfair Sportsbook (1.83 with B365), whilst the calculated sample value odds (based on our tips predictions) are 2.44. That's a no bet scenario.
Good value picks
Have a look at these stats and odds available for certain matches: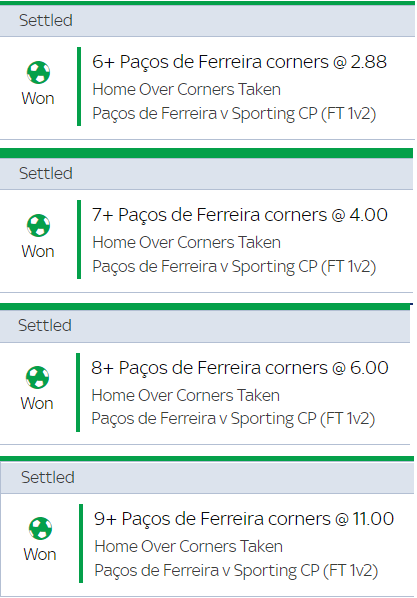 There is no need to look for those stats manually. Check the link below for all best selections in one place.
Handy resources:  Single team corners taken tips – collected from BetTheBuilder home page, sorted in submarkets categories and ordered by the highest % chances. These predictions will save you plenty of time by displaying the TOP stats in one place.
---
Each Team Total Corners Taken

These kind of markets are popular with Bet Builder punters and often picked in accumulators. If you find some really strong selection for this market, you may be better of doing a BetBuilder with home and away teams scoring over 3.5 corners rather than backing the 4+ corners each team option. In some cases, the combined odds when betting separately are higher than the odds offered on this particular market.
Handy resources: Each team total corners taken tips – All the strongest statistical picks for each team total corners taken markets. Sorted by the submarkets and ordered by the highest % chances.
---
Corner Match Bets

If you wish to back a team with most corners at the end of the 90-minute match, there are 3 popular markets:
Corner Match Bet
Corner Handicap
Asian Handicap Corners
And you should be comfortable by now to correctly identify the Asian Handicap Corners market as the one with the lowest overround and best available odds to bet on.
Handy resources:  GoalsCornersCards.com – Sortable corners Averages stats, perfect for finding selections for corner match bets.
---
Race to x corners
These markets are simply criminal and you should avoid them at all cost if your aim is to make a profit from betting on corners.

Just look at these odds and let's calculate some overrrounds:
Race to 3 corners: (1/1.4) +(1/2.75) +(1/29) = 111.2%
Race to 5 corners: (1/1.66) +(1/4) +(1/4) =  110.2%
Race to 7 corners: (1/2.62) +(1/8) +(1/1.61) =  112.8%
Race to 9 corners: (1/6) +(1/26) +(1/1.12) =  109.8%
The teams' corners lines are a better choice offering smaller overrounds.
---
What bookies to use for corners betting?
If you are starting your journey with the corners betting and are lucky to have no betting restrictions on your bookies' accounts, then you can take some profits off two of the best soft bookies for corners betting:
Bet365
SkyBet
These two books have been used for the purpose of this article and I personally have taken my share of profits from both of them before being restricted to pennies. Another soft book worth mentioning is Betfair Sportsbook.
Got limited? What's next?
The good news is that corners betting is one of the easiest ways to make money from football betting. Once you come up with your betting process and commit to it, you will start seeing your bank grow. Unfortunately, so will the bookies and you won't be able to use those soft bookies forever. Sooner or later you will get the following love email: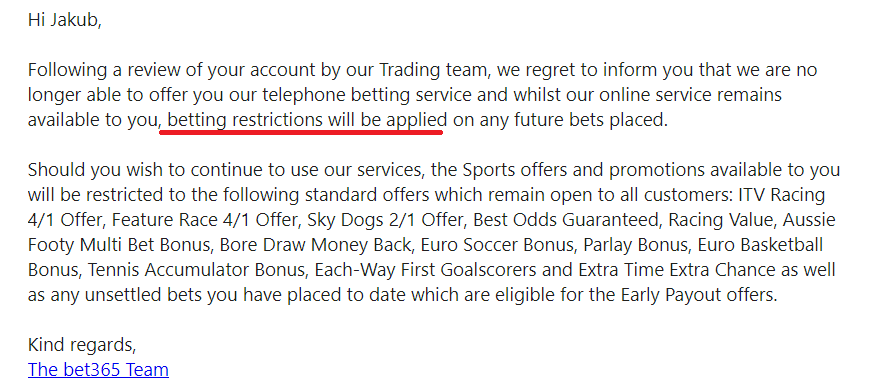 So instead of placing a £300 bet, you will be able to place £1.83 maximum on a given corner market (e.g. Asian Handicaps Corners). You may be able to prolong your betting process with that bookmaker by opening another account with them by using your family member or a friend (and using a separate broadband connection and a new device) but this will also come to an end sooner or later.
Not being able to use those soft bookies poses new challenges to your corners betting process. Firstly, you will likely use access to some niche corners markets and will not be able to place bets in some more obscure leagues and competitions. Secondly, it may not be as easy to access a proper bookmaker that will accept your bets. What you would have to do is to place your AH corners bets with reputable Asian Bookmakers such as Pinnacle, SBOBet and similar. This may not be directly possible for some punters from countries that restrict access to those bookies or those firms choosing not to apply for a gambling licence to operate in a given country.
However, there still are possible ways of accessing those Asian bookies via broker services such as Asian Connect. They may require a little effort such as using a VPN to access them or using alternate methods for depositing and withdrawing your funds. On the other hand, they are legal, regulated and there are thousands of happy customers who are able to use higher stakes without all that soft bookies' restrictions nonsense. Furthermore, most of the brokers also offer API services for automated betting apps for high rolling punters.
---
First Half Corners Markets
We have a separate video presenting betting methods and idea on the 1st Half Corners betting.
---
Final Thoughts
You may find betting on corners slightly easier than betting on goals or cards markets. It's definitely a good entry market for those who wish to start treating betting more professionally and it will definitely let your bank grow. Just make sure to stay clear of the high margin bookies corners markets such as Race to x corners etc. and focus on the Asian Handicap markets (with the smaller overrounds and best odds).