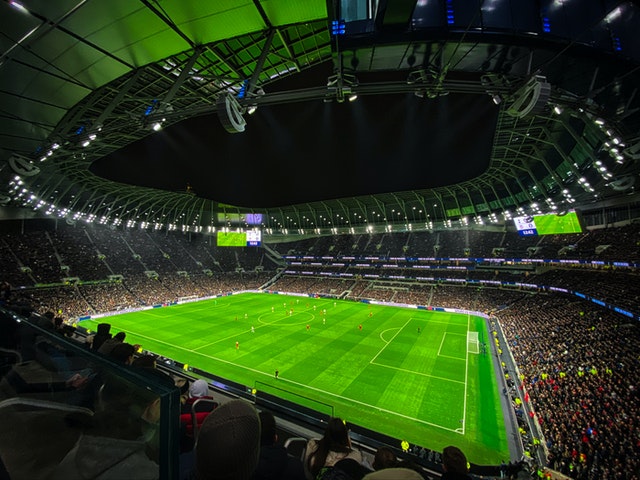 Transform your Lay The Draw betting & trading with these 5 powerful tools
Lay The Draw has been around for several years now. It's one of the most popular Betfair football in-play trading methods and one that can be very profitable when applied properly in long term football trading. In this article, I will cover this method in more depth and will present 5 powerful Lay The Draw tools that you can use in your daily football trading to improve your results.
What is Lay The Draw?
If you are new to betting exchanges you may have not heard about laying the draw. Saying so, this kind of bet or trade can also be placed with any traditional bookmaker.
Lay The Draw
When you lay the draw you bet against the draw. So effectively you will win your bet when either the home or away team wins the match (after full time – 90 minutes without extra time). The term itself comes from betting exchanges such as Betfair and relates to the following bet option:

It's the right-hand side, pink part of the Draw option. The best available odds for lay the draw are 3.7. Let's just quickly see how the lay odds work.
When you back the draw for £10 at 3.7, your profit will be £27 (minus commission).
When you lay the draw, you have to place £27 at 3.7 in order to win the £10 (minus commission).
Laying gives you an opportunity to act as a bookmaker – you are taking someones else's back bet. There is a simple formula to calculate your liability (total stake) in order to secure the desired profit:
Liability = (lay odds – 1) x desired profit
Please note that the average draw odds are way above 3 and therefore the lay prices will be equivalents of very short back prices. You find the equivalent back prices from the lay odds using the following formula:
Back Odds = 1 / (1 – 1/Lay Odds)
So for example, laying the draw at the price of 3.7 is an equivalent of the backing at odds of 1.37. You will also need to include your commission rate e.g. 2% or 5% as this will reduce your odds to 1.34 or 1.30 respectively.
It's important to understand this concept as you will be able to compare the available prices when using the alternative methods and determine which gives you the best value.
Lay The Draw Alternatives
There are many different reasons why you would want or need to looks for alternatives to laying the draw at exchanges. Perhaps your country restricts access to popular exchanges, or you wish to place a bet on a lower league that is not covered by an exchange. Similarly, some of the fixtures don't offer big enough liquidity for certain matches and therefore you may not be able to have a bigger stake matched before the game starts. Other times you may get better overall odds when not laying at the exchange but using one of the following alternatives below:
Dutching Match Odds
If you are betting against the draw, you want to cover both the home and away wins. You will need to split your stakes and place two bets for an equal profit on both outcomes. This process is called dutching and there are many online calculators to help you calculate the stakes for your bets.
First of all, you will need to find the best available odds and see what bookmakers offer them. I recommend using oddsportal.com for this purpose.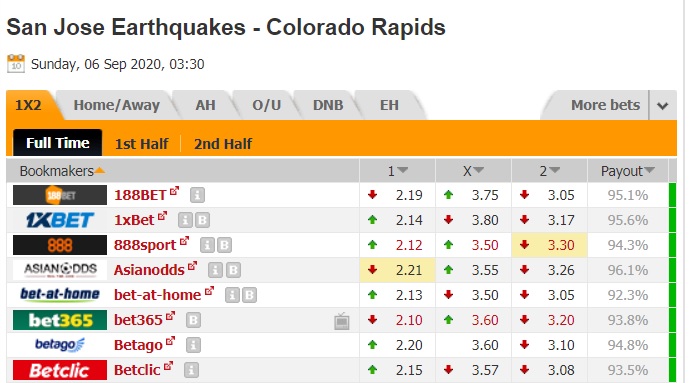 By choosing the best home and away back odds you are reducing bookies overrounds (increasing your long term profits). Just look for the highlighted odds e.g. 2.21 for the home team offered by Asian Odds. I would recommend you this betting broker as they offer one of the highest odds with decent stake limits.
Now we need to shop for the best odds for backing the away team. If you have an account with the 888Bet, you may back it for 3.3. Otherwise, you may settle for 3.26 with AsianOdds.
Dutching Calculator
Once you have your desired betting odds and know where you want to place your bets, you will need to calculate your stakes. Just google a 'dutching calculator' and you will find plenty of sites offering this handy tool.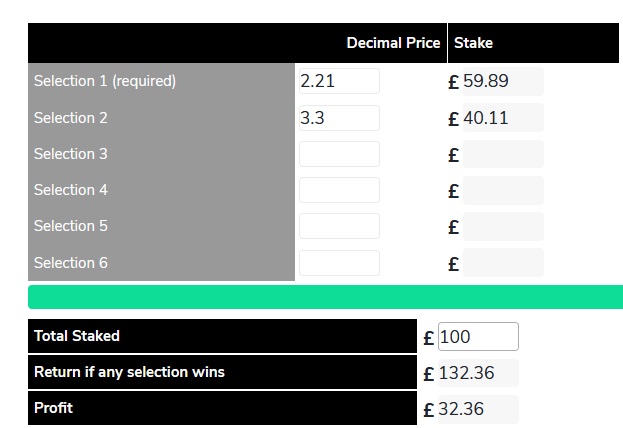 Simply input your odds for both selections and enter your total stake e.g. £100. It returns your home stake (£59.89) and away stake (£40.11) for a total return of £132.36. That gives you odds of 1.324.
Asian Handicaps
Lay the draw can also be done using Asian Handicaps and it can provide better value odds at times. The idea is pretty much the same as for the 1X2 markets – we have to dutch home and away outcomes. As it happens, it's worth checking the -0.5 and +0.5 Asian Handicaps as they often offer better odds (AH markets generally offer smaller overrounds).

Backing the home team with the Asian handicap of -0.5 at 2.23.
Backing the away teams with the Asian handicap of -0.5 at 3.35.
When you input these odds to the dutching calculator you will get combined back odds of 1.339.
Double Chance markets
If there was a market that I was NOT to recommend – it would be this one. It is offered by most of the soft bookmakers and they offer the lay the draw option in one bet – '12' outcome – meaning home or away to win. But just have a look at the screenshot below for the offered odds and payout figures:
The highest available odds for the 12 option are 1.31 (not included in the screenshot). Some popular, big branded bookmakers offering as generous odds as 1.22! With average bookmakers' overrounds of 7% (some even have it closer to 9%), the double chance markets offer very poor value for your money and are ones to avoid. Furthermore, each of the soft books on the screenshot above will limit you to pennies once you show some ability in your betting. Seriously, it's simply not worth building your strategy around these markets.
LTD value comparison
Based on the example match above (San Jose vs Colorado in MLS), we can place the same bet and obtain 4 different odds:
Lay The Draw at Exchange: 1.37 (minus commission – e.g. 2% making it 1.34)
Lay The Draw by dutching Home and Away: 1.32
Lay The Draw by dutching AH -0.5 for Home and Away: 1.34
Lay The Draw by backing the '12' outcome: 1.31
It seems like using betting exchanges is the most convenient and offers the best odds, however, you may struggle to have bigger stakes matched at the desired prices and you will find big gaps in prices for less popular matches (no liquidity). In those situations, you may need to use one of the alternative methods.
Lay The Draw – Trading Scenarios
Lay the draw can be executed as placing straight bets and letting them run. However, it's trading the lay the draw markets that has attracted many punters to stop betting and start learning to trade in-play football markets. The beauty of live trading using the lay the draw method is that in most cases you need only one goal to have a profitable trade. Once a goal is scored you can hedge (cash out) for a profit regardless of the final outcome.
The Lay The Draw above was opened after the 25th minute when the odds for the draw went down to 3.55. Laying The Draw for £50 potential profit (£49 after 2% commission) means that my total liability (risked stake) was £127.50. However, I was never intending to let this run as a bet and was going to hedge for a profit (after the first goal) or a loss (if it was still 0-0 and the draw's odds steamed further to 2.00). That was the action plan and below is the closing trade execution:

There are many different scenarios and events that will affect the odds of the draw and you will need to prepare for them beforehand. In other words, you need to have a plan of action before a match starts and know exactly what you are going to do with your trades whilst in-play.
Hedging for a profit
That's the whole point of trading, right? Making profits. This is when everything goes to plan – you choose a selection, lay the draw and a goal comes in giving you a nice green board across all outcomes. You move on and eye up another match. Easy peasy.
However, when laying the draw your profit will depend on the odds change after a goal or a sending off. An early goal or a goal for underdogs will not shoot the draw odds up significantly and your offered cashout amounts won't be looking so grand. What do you do then? Wait longer for another goal and expose yourself for a potential equalizer?
Hedging for a loss
Why would you trade out for a loss? I hear you asking. To protect your bank. Taking smaller losses will not do such big damage to your trading bank as taking full liability stakes losses. You won't win every single trade, 0-0 will hit you once in a while, two consecutive goals 1-0 and 1-1 without the chance of hedging will cost you money as well. Think it through and learn to take the losses as keenly as you take the profits.
Scratch Trade
You can think of it as of the 'Get out of jail free card'. Scratch allows you to close your trade at the same price without winning or losing anything from that trade. E.g. you may Lay The Draw in a match where an underdog scores the first goal and the odds draw will stay at a similar level rather than drifting out significantly. In other words, certain in-game situations may cause the odds to get back to your entry point and will allow you to close that trade and walk away if you wish so.
Trading lay the draw markets is a combination of all those actions above. You will need to choose what actions to trigger in what situations. It's something that you will have to do yourself by practice and learning how the markets react to different scenarios. Furthermore, you will need to make it a part of your routine and be very consistent about it. Otherwise, you will become confused and get punished by your inconsistent trading actions.
Lay The Draw Trading Entry Points
When should you enter the lay the draw trade? That's entirely up to you and it really depends on personal preferences and trading plans.
Lay The Draw Pre-match
Laying the draw before the match starts has two main perks:
Getting early, good value odds
Hedging after an early goal
If you are able to determine good value lay the draw prices, you may have your trades placed in advance before everyone else starts following suit. Naturally, the LTD odds will start to shorten as soon as the match starts, but in some cases, you may get a few odds ticks of advantage. For example, you lay the draw @ 3.5 a day in advance and the odds will drift up to 3.8 before the match starts. It will take a good few minutes before the odds go back down to 3.5 (your entry point) and sometimes there may be a goal during this time and you will be able to benefit from it.
Lay The Draw In-play
The beauty of LTD is that you can enter this trade at any point during the match and there are various risk/reward ratios depending on the initial odds, recent odds, current score and remaining time left. Generally, the later you enter the trade and the later the goal is scored, the bigger returns you will have.
LTD at Half Time
The odds for the draw are a lot lower at half time than before the match starts. Thats no surprise as half of the match is gone and there is left time remaining for the teams to score. Although stats are in your favour as there are a lot more goals being scored during second halves than in the first halves.
LTD around the 60th min (at Evens)
Another popular entry for the lay the draw is around the 60th minute (depending on the odds). The idea behind this one is to lay at around the even money (odds of 2.00). Some people prefer to keep their liabilities down and work their strike rates at this odds level. A goal scored after this time pretty much guarantees the odds shooting significantly up and a nice green board after hedging (unless you laid the draw and a big underdog takes the lead).
Drip Laying The Draw in last 15/10/5 minutes
If a match is still level after 75 minutes of play, the draw odds are starting to shorten very rapidly and laying the draw can be done at very short odds. Furthermore, a goal at this stage of the match means the draw odds will skyrocket and result in bigger profits than when laying the draw earlier on in the game.
Drip laying means that you can split your stake and keep laying the draw at different odds levels e.g.:
LTD in the 75th min @ 1.73
LTD in the 80th min @ 1.52
LTD in the 85th min @ 1.36
The idea in this approach is to profit from those late goals. By placing multiple lay bets, you will be able to boost your profits by laying the draw at low odds (having small liabilities).
Lay The Draw Powerful Tools
Knowing all the technical bits for using the Lay The Draw trading techniques is only one side of the medal. Let's put it this way: everyone can learn the method but still, most will fail to make it work. Most fail by not having or sticking to a trading plan. Some will tend to overtrade (play too many selections) or by chasing losses after a few losing trades. It's mandatory that you target those areas first and work on your mentality before you start thinking of doing it seriously.
These tools below will make your research and match selections a lot quicker and easier. They are being used successfully by professional punters and traders on a daily basis.
1. Lay The Draw Statistics
Football statistics are often the starting point for building many of the Lay The Draw systems. They identify teams playing patterns and will provide good qualifying selections for your systems. You will be able to find various stats models and formats out there. See a few of the examples below:
Bet The Builder Single Matches Stats
Our own 'Lay the draw statistics' from the home page contain 3 useful LTD stats as well as % tips predictions. You can look up any match and access the following stats instantly: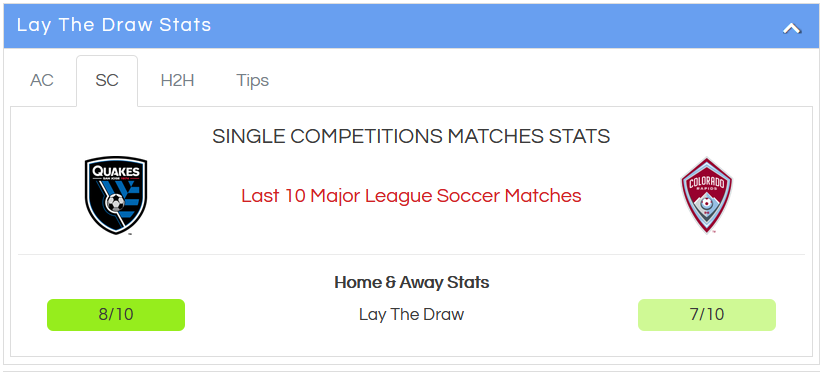 AC – All competitions stats – showing how many successful LTD had both teams in their last 10 All Competitions matches
SC – Single competitions stats – showing how many successful LTD had both teams in their last 10 Single Competition matches
H2H – Head To Head stats – showing how many times the LTD took place in the matches between these two teams.
Tips – sample % prediction for this outcome based on our algorithms.
GoalsCornersCards LTD stats list
GoalsCornersCards site provides fully sortable lay the draw stats lists with handy filters to find the best stats in seconds. The matches can be split into major and minor leagues.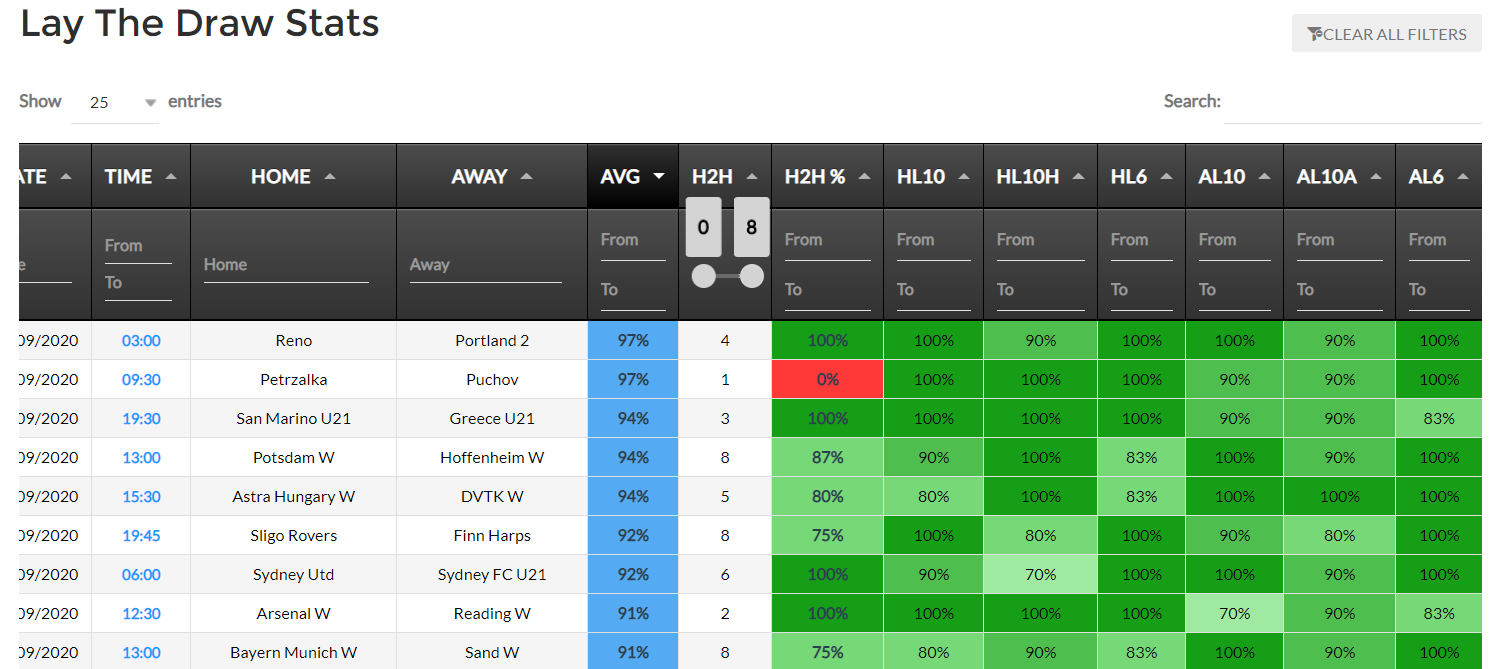 The LTD stats above are based on the single competition model (e.g. for the EPL fixture, calculate only on Premier League matches). Furthermore, you browse the stats by:
H2H %
Home last 10 matches and away last 10 matches
Home last 10 at home matches and away last 10 away matches
Home last 6 matches and away last 6 matches
ProSoccerStats Lay The Draw Statistics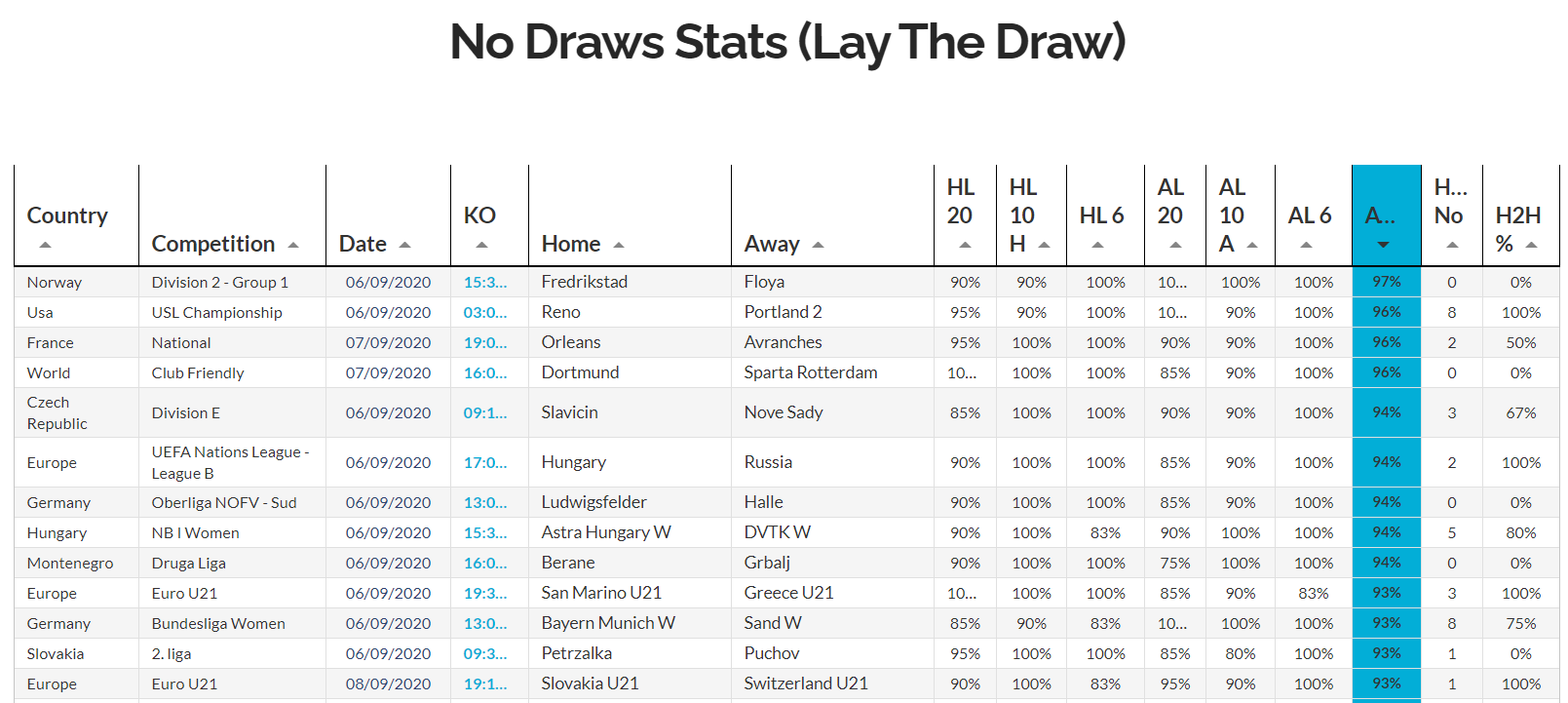 Similarly to GCC stats, the prosoccerstats's lay the draw stats list provides the same format stats. However, their model is based on all competitions matches (excluding friendlies). Additionally, they provide long terms statistical trends by looking at home and away teams last 20 matches.
2. Lay The Draw Money Trends
The money trends show how profitable or not would the laying the draw have been in past matches of both featuring teams.
There are 2 tables with the Last 20 matches and Last 20 home/away matches for both teams. The current fixtures are sorted by the highest profitable home teams. Featuring average and true back odds (based on the lay prices and past success rate). You can learn a lot more about the money trends in this article.
3. Game Intensity Scanner
During the football season, there are hundreds of live matches available to trade. It's impossible to track all of them and pick the matches with the best in-play statistics i.e. the most intense matches that are likely to have a goal score soon. As you probably guessed by now, there are tools that do that for you. One of them is presented below.
The Game Intensity Scanner is displaying the most intense in-play football matches. The highlighted yellow fields represent GI numbers for both teams. They are based on the last 10 minutes and pick up matches where there is a lot of action e.g. shots on target, shots overall, corners, dangerous attacks etc. Those figures are calculated automatically and refreshed every minute with further colour highlights:
Orange GI number

– high-intensity team's performance in the last 10 minutes

Red GI number

– very high-intensity team's performance in the last 10 minutes
On the right-hand side, there are game intensity charts showing both teams attack intensity over time.
This great tool also includes some other handy features such as teams' standings, goals times and recent form – including home, away and H2H encounters (click on the icons to open them).
I would recommend you to pay attention to those matches where one of the teams has been dominating in the last 10 minutes (e.g. red GI number) or where both teams have high (orange or red) game intensity indexes. One of those matches can be seen above – Atlante dominating their match against Universidad Guadalajara. The game is still 0-0 early on in the second half.
Laying the draw in that match was available at just over 2.5:
Over 20 minutes later, it was the away team that scored after a counter-attack.
The draw odds would have drifted more when the favourite scored. However, despite the goal being scored by the underdogs, it's timing meant a decent profit nevertheless.
System Idea: Look for those high intensity matches that are still draws around the 60th min. You may build you system around those and enter the trade for 10-15 minutes and hedge for a profit/loss in that time. You will need to show a good strike rate, but the scanner will help you to identify those matches with plenty of action.

Using the Game Intensity scanner is perfect when you have plenty of time to follow and trade live football matches.
4. Live Builder In-play Notifications Alerts Systems – Lay The Draw
If you like the Game Intensity scanner, you will love this next ingenus tool.
As the name suggests, it's a feature that will send you in-play alerts to your personal Telegram chat whenever a match meets your system's criteria. No need to monitor any matches manually. You can carry on about your day and as soon as something good pops up, you will know and can take further action. No screen time, no more following live stats. Just quick alerts and you reacting to them. Maximum efficiency.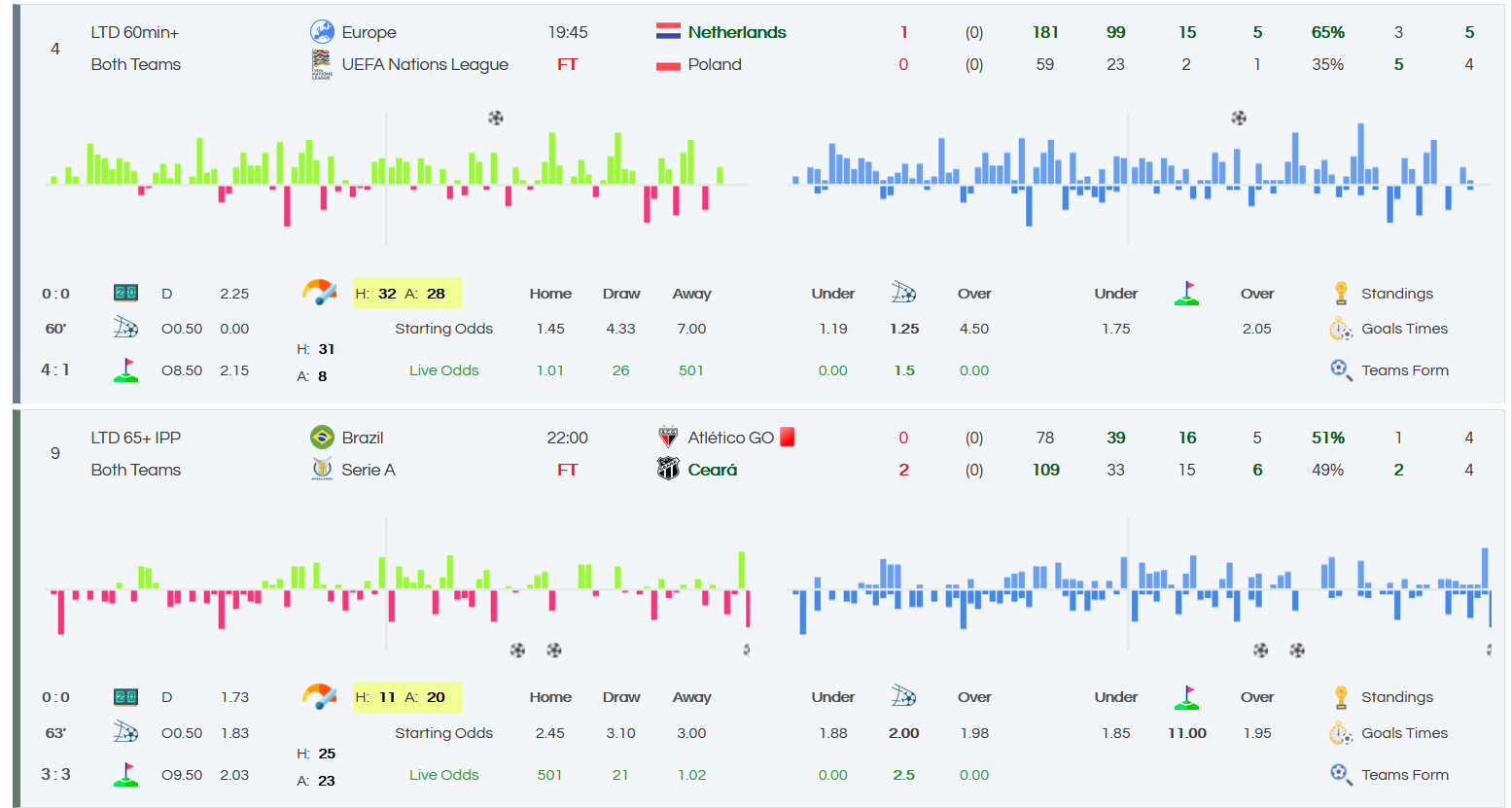 We currently offer a few different Lay The Draw Live Builder alerts, which are based on combinations of pre-match statistics (Bet The Builder Stats & Tips), in-play stats and Game Intensity selections.
The LiveBuilder offers a full history of past picks and records all the odds (at the time of sending the alerts – left bottom corner). You can quickly see the pre-match odds as well as current in-play odds. Furthermore, there is the same GI graph, which is accompanied by the Dominance chart (green + red coloured bars). This chart shows which of the teams has been dominant in terms of attacking.
If you have some specific in-play stats, odds and other criteria in mind, we may be able to set it up for you in the Live Builder. So please get in touch.
5. Goals Times Trends – Lay The Draw
Some teams seem to have strong goal scoring and conceding patterns. For example, losing plenty of goals just before half-time or coming out for the second half and scoring most of their goals in the 1st 15 minutes of that half.
Identifying those patterns can be very handy when trading lay the draw markets. Let's assume that you enter your trade at half-time. You would like a goal to come in soon after the match resumes to maximize your profits. You may wish to test the goals scoring and conceding trends yourself and perhaps build your system or strategy around them.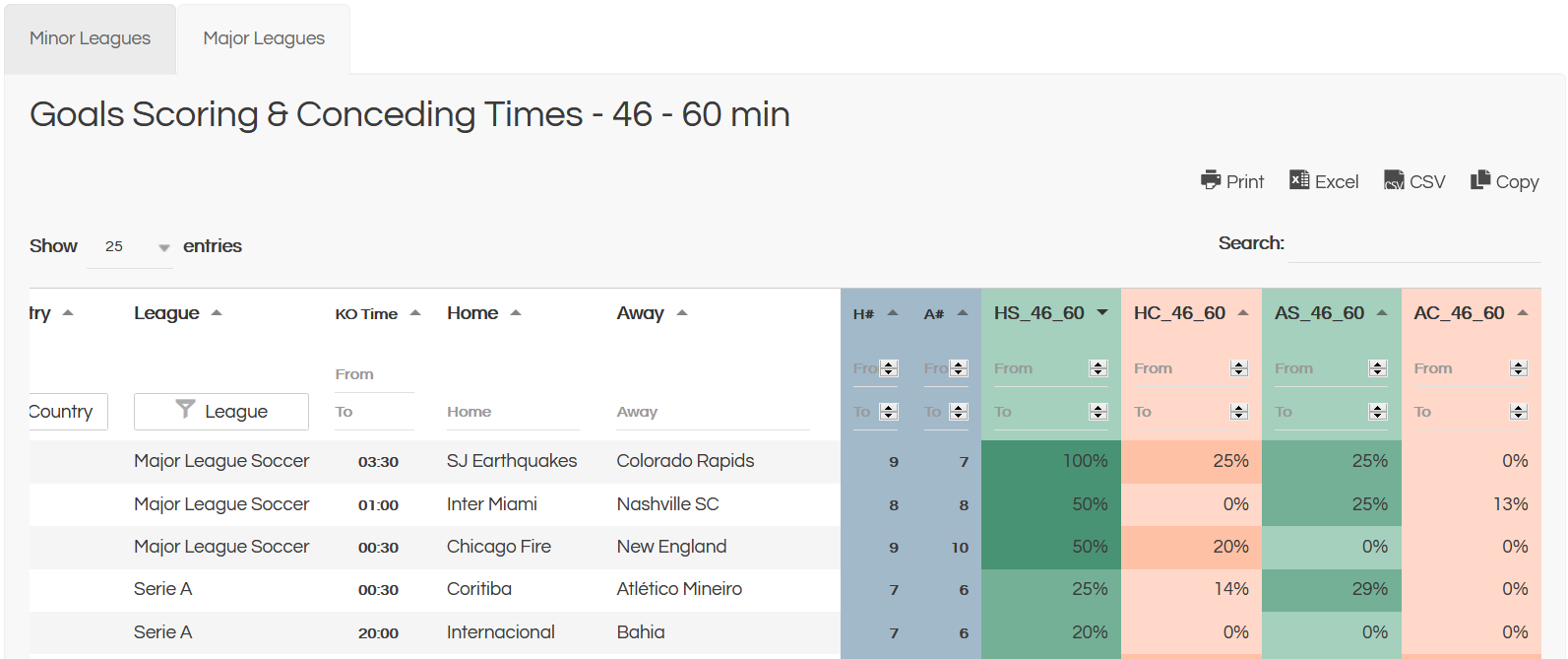 We have already used the SJ vs Colorado game when comparing different alternatives and odds for laying the draw. Now, this very same game has been identified as the TOP pick for goals in the 45-60 goals times trends. The 100% figure for SJ Earthquakes means that all of their goals in the past 9 matches in the MLS were scored in that time interval. We could take that with a pinch of salt and conclude that they only played 9 games so far and don't know how many goals they scored. Anyway, I suppose we got lucky with this one as the SJ scored in the 59th min to keep their 100% record with 10 games now.
The goals times trends work best for fixtures with more matches played in the season. The goals scored and conceded percentages are distributed more evenly then and any outstanding figures are worth looking at. It's especially interesting when you have two teams with high scoring/conceding percentages for the same goals times interval.
System Idea: Look for 0-0 or 1-1 matches at HT and fixtures from Goals Trends 46-60 and 61-75 where one or both teams have their highest % goals scored/conceded proportions. Lay the draw in at the beginning of those intervals with a view to hedge after 15 minutes. Perhaps this could be tested further with setting Live Builder alerts.
Bonus: Lay The Draw Tips
For every match that is included in the LTD statistics, we apply our algorithms to come up with our Lay The Draw predictions. These are calculated for Major and minor leagues & competitions and updated daily. We add available double chance odds ('12') whenever possible for reference and sample value calculations.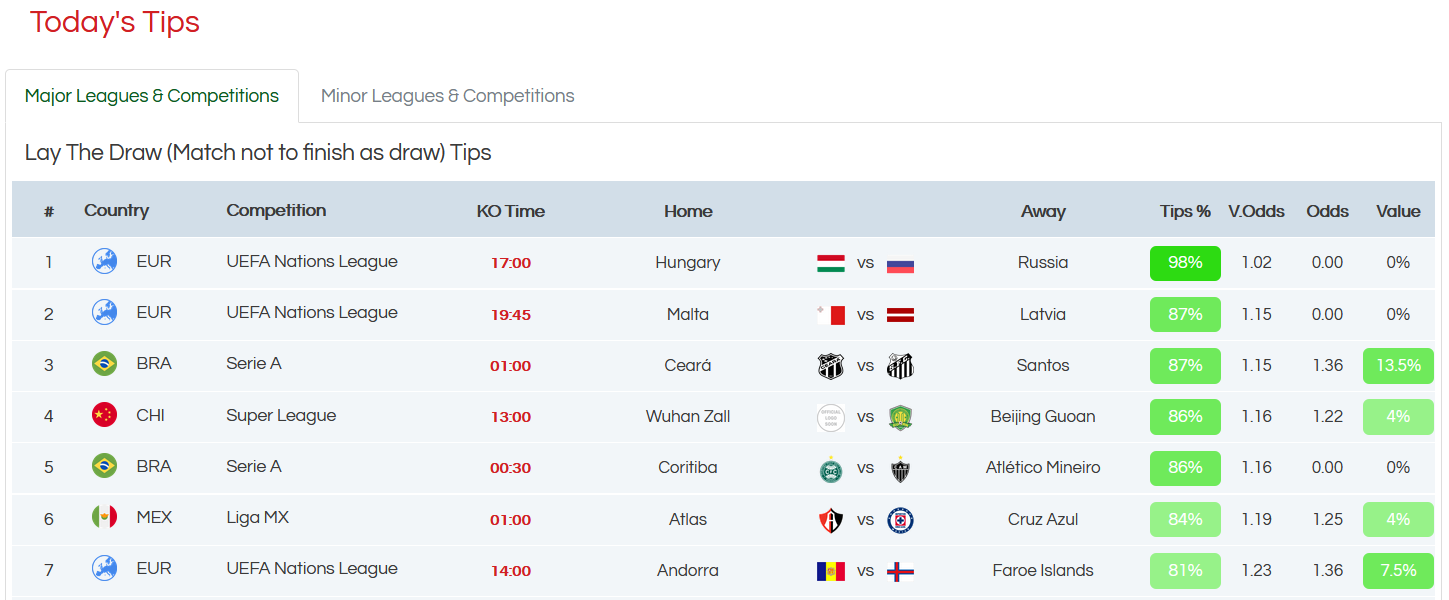 These are the strongest, daily statistical LTD picks and can successfully be used for laying the draw in-play. Feel free to use them, if you don't have the time to research your own tips. Have a look at the Systems Zone for more advanced selections too.
Lay The Draw – Conclusion
The 5 Lay The Draw tools presented above should give you a better idea about finding Lay The Draw selections for your systems and strategies. Go ahead and choose the ones that appeal the most to you and give them a go. Just remember that a single day or a weeks worth of results mean nothing in betting or trading, so just because you will get very good or bad results from using one of the tools doesn't mean that they work well or not for you.
Whatever you choose to follow, stick to it for a longer period of time and give it a good go before making any conclusions. All of those tools can help you make lay the draw betting and trading successful, however, you will still need to put in a lot of work to keep it all together – especially when you hit a rough losing spell.